Alix Earle Spoke On Cheating Allegation With Braxton Berrios, Said They Weren't Together
Celebrities News●0 min read●
Alix Earle finally spoke up and commented on her relationship with Braxton Berrios. 22-year-old Earle came to the premiere of season 4 of the 'Call Her Daddy' podcast by Alex Cooper and spoke about her relationship with Braxton Berrios.
Berrios was initially involved with Sophia Culpo, and they dated for two years before they parted ways in March. After Earke and Berrios were seen together, hanging out, Earle was considered the reason for their break up and was blamed for it.
On Wednesday, Cooper asked Earle on the show about the circulating rumors about their relationship. Cooper asked, "This past summer, you were getting scrutinized on the internet. People were calling you a mistress; some people were calling you a homewrecker in regard to the NFL player you were hooking up with. Can you confirm: Were you hooking up with him when he was in a relationship?"
Earle said it was unnatural that Cooper was saying that before clarifying it and denied the accusations. She also said that she has gone through these comments and told Cooper about her family and how her father's affair with his current wife broke their family. She said, "I spent my childhood thinking this is the worst thing you could do to another human. So why the f— would I do that?"
Cooper asked her what caused the rumors, and she said, "I guess the ex-girlfriend had started posting things alluding to unfaithfulness in the relationship online and I was seen hanging out with this guy so everyone just kinda pointed fingers at me."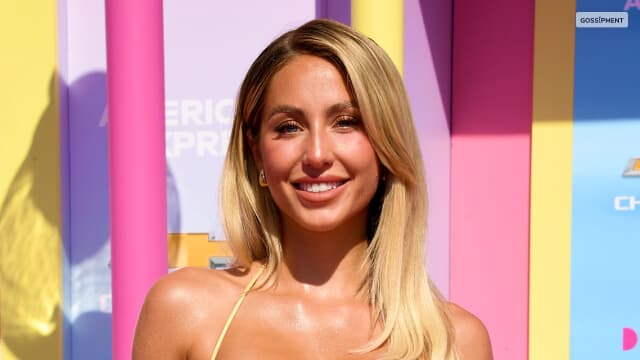 The rumors made her skeptical about the relationship
Earle said that after reading everything, she confronted Berrios and was also skeptical about their relationship. She thought if he did that to some other women, he could also do that to her. Berrios stated their separation and said they had a healthy and good relationship, but things were not going well in the end.
He said their split "had nothing to do with anything else," and "It had nothing to with anybody else for that matter." After that, Culpo wrote, "We broke up after the Drake concert Super Bowl weekend where he was seen making out with another girl. Not bitter; in fact, I know the situation has been one of my biggest blessings."
Earle clarified her part of the story and said she is single and not involved with Berrios. She said, "It's been weird starting to talk to somebody while kind of having a following, I guess, just because people would see us out together so naturally they're like, 'Oh they're dating."
She added, "We started talking at a very weird time in my life, I was finishing college… As much as we were hanging out, it never felt like the right time to start a relationship."
Recommended Reading:
■ Bijou Philips Has Filed For Divorce After Danny Masterson Was Sentenced For Rape
■ Travis Barker Is Taking Extra Care Of Kourtney Kardashian, After Her Fatal Surgery