List Of Alka Yagnik Songs – 2021 Updates
Music●0 min read●
Alka Yagnik is one of the phenomenal female playback singers that Bollywood has been gifted. She is one of those singing sensations who has ruled the Indian cinema for playback singing for more than four decades. The Alka Yagnik songs have made her win the esteemed Filmfare Award a record seven times from a record of 36 nominations under the Best Female Playback Singer category. She has also been honored with the National Film Awards two times, which is considered the most revered award for Indian cinema.
The BBC has also included the 20 most popular and timeless songs sung by Alka Yagnik in their review, "Top 40 Bollywood Soundtracks Of All Time." She is also the lone female playback singer in Bollywood who has sung the maximum number of solo songs in her Bollywood singing career. As of March 2021, she holds the No. 1 rank in YouTube's Charts and Insights list, constituting top global artists. In this chart, she garnered 400 million views. By this, you can understand how popular and in-demand Alka Yagnik songs are.
The Beginning of Alka Yagnik's Magical Voice In Bollywood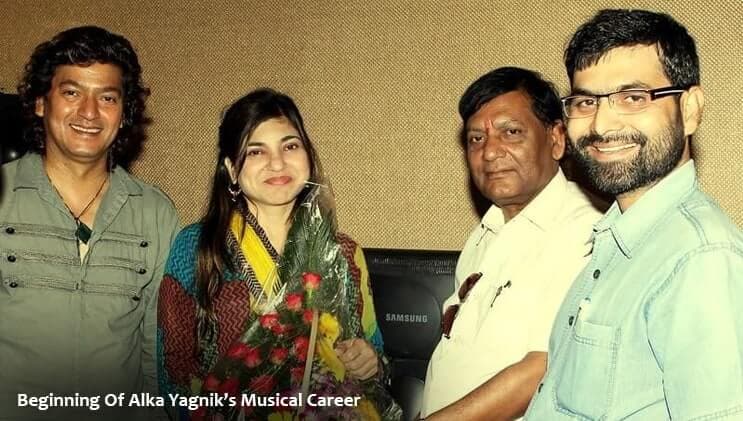 In 1980, Alka Yagnik received her first opportunity to sing as a playback singer in Payal Ki Jhankaar. There was no looking back for her as whichever song she was singing turned out to be a massive hit. In 1981, she added another song to her illustrious list of Alka Yagnik songs, the female version of the eternal song "Mere Angane Mein" from the blockbuster movie Laawaris starring Amitabh Bachchan.
But, the song that brought her under the limelight and showered name and fame upon her, which she still enjoys, was "Ek Do Teen" from the movie Tezaab (1988). The song picturized on Madhuri Dixit is still on the listener's list and made the actress recognizable. Of all the Alka Yagnik songs, this song made her win her career's first Filmfare Award for the Best Female Playback Singer. After that, when she was at the peak of her career, i.e. in the 90s and 20s, she recorded five songs daily. 
Alka Yagnik did not limit her singing to just one genre. She has even sung a few seductive songs that are still trending solely because of how she sang them and the excellent music. The notable seductive Alka Yagnik songs are "Choli Ke Peeche Kya Hai" from the 1993 movie KhalNayak, which she sang along with Ila Arun. This song too fetched her a Filmfare Award for the second time that she shared with Ila Arun. In 2013, Sanona conducted a poll in which this seductive Alka Yagnik song was voted as the hottest song of the century. 
In 2012, when the Hindi Cinema was celebrating its centennial year, DesiMartini and Hindustan Times, and Fever 104 radio station had launched a poll in which another super hit song, "Taal Se Taal Mila" from the movie Taal and sung by Alka Yagnik and Udit Narayan was voted as the best song of the century. The list of Alka Yagnik songs also comprises various songs that she has sung for albums and as the theme song for different social, women & girl empowerment and development governmental projects. It's to check her most successful and still trending songs that listeners of all ages love. 
List Comprising The Record-Breaking Alka Yagnik Songs – 2021 Updates
1. Gazab Ka Hai Din, Ae Mere Humsafar, Akele Hain To Kya Ghum Hai: From the movie Qayamat Se Qayamat Tak.
2. Ek Do Teen, So Gaya Yeh Jahan is one of those Alka Yagnik songs that got her the first Filmfare Award of her playback career from the movie Tezaab.
3. Gazar Ne Kiya Hai Ishara is from the movie Tridev.
4. Mera Dil Bhi Kitna Pagal Hai, Dekha Hai Pehli Baar, Tu Shayar Hai: From the movie Saajan.
5. Baazigar O Baazigar: From the movie Baazigar.
6. Palki Mein Hoke Sawar Chali Re, Choli Ke Peeche Kya Hai: From the movie Khalnayak.
7. Baadalon Mein Chup Raha Hai Chand Kyun: From the movie Phir Teri Kahani Yaad Aaye.
8. Ghunghat Ki Aad Se Dilbar Ka, Yunhi Kat Jayega Safar, Bombay Se Gayi Puna are those iconic Alka Yagnik songs picturized on the famous on-screen pair Aamir Khan and Juhi Chawala in the movie Hum Hain Rahi Pyar Ke.
9. Tum Mile Dil Khile from the movie Criminal.
10. Akhiyan Milau Kabhi Akhiyan Churaun from the movie Raja. 
11. Mujho Ranaji Maaf Karna, Jaati Hoon Main, Yeh Bandhan To Pyaar Ka Bandhan Hai: From the movie Karan Arjun.
12. Raja Ko Rani Se Pyaar Hogaya: From the movie Akele Hum Akele Tum.
13. Aankhon Mein Base Ho Tum: From the movie Takkar.
14. Main To Raste Se Ja Rahi Thi: From the movie Coolie No. 1.
15. Bahon Ke Darmiyan: From the movie Khamoshi: The Musical.
16. Koi Jaye To Le Aaye: From the movie Ghatak.
17. Pardesi Pardesi Jaana Nahi, Kitna Pyara Tujhe Rab Ne Banaya. Poocho Zara Poocho Mujhe Kya Hua Hai, Aaye Ho Meri Zindagi Mein: From the movie Raja Hindustani.
18. Meri Sanson Mein Basa Hai, Koi Jane Koi Na Jane: From the movie Aur Pyar Hogaya.
19. Need Churayi Meri, Dekho Dekho Janam Hum: From the movie Ishq.
20. Meri Mehbooba, Nahi Hina Tha: From the movie Pardes.
21. Gali Mein Aaj Chand Nikla: From the movie Zakhm.
22. Odh Li Chunariya: From the movie Pyaar Kiya To Darna Kya.
23. Soldier Soldier, Mere Khwabon Mein Jo Aaye: From the movie Soldier.
24. Chamma Chamma: From China Gate.
25. Mere Mehboob Mere Sanam: From the movie Duplicate.
26. Kuch Kuch Hota Hai, Ladki Badi Anjani Hai, Koi Mil Gaya, Saajan Ji Ghar Aay Tujhe Yaad Na Meri Aaye: From the movie Kuch Kuch Hota Hai.
27. Kisi Disco Mein Jaaye: From the movie Bade Miyan Chote Miyan.
28. Aati Kya Khandala, Aankhon Se Tune Ye Kya Keh Diya, Jadu Hai Tera Hi Jadu are also one of the popular Alka Yagink songs from the movie Ghulam. 
29. Aa Ab Laut Chalein: From the movie Aa Ab Laut Chalen.
30. Sajan Sajan Teri Dulhan: From the movie Aarzoo.
31. Mera Mann, Tinak Tin Tana: From the movie Mann.
32. Jo Haal Dil Ka, Iss Deewane Ladke Ko: From the movie Sarfarosh.
33. Chand Chupa Badal Mein: From the movie Hum Dil De Chuke Sanam.
34. Taal Se Taal Mila, Kariye Na, Ramta Jogi: From the movie Taal.
35. Dilbar Dilbar: From the movie Sirf Tum. 
36. Agar Tum Saath Ho: From the movie Tamasha. 
The list of Alka Yagnik songs is endless, and so is her time. She has done playback singing for more than 2,486 Hindi songs, expanding over 1,114 films, making her the fifth most successful playback singer in the Indian cinema in terms of numbers. She also stands as the third female playback singer to sing the maximum number of solos in her Bollywood career after the likes of Lata Mangeshkar and Asha Bhonsle.
You May Also Like: