Ariana Grande Has a New Flame for Her 30th Birthday Before Dating News Hits
Celebrities News●0 min read●
Ariana Grande and Ethan Slater have been spotted getting pretty cozy while celebrating her 30th birthday getaway in late June, just three weeks before news of their relationship was revealed. 
Seen wrapping her arm around her Wicked co-star while at Soho Farmhouse in the UK on June 27, Slater seemed to reciprocate the move by placing his hand around Grande's lower back. The Daily Mail has photographed them so. 
Slater is married to Lilly Jay, with whom he shares an 11-month-old son. Ariana, who has split from her husband Dalton Gomez, is yet to file for divorce after two years of marriage.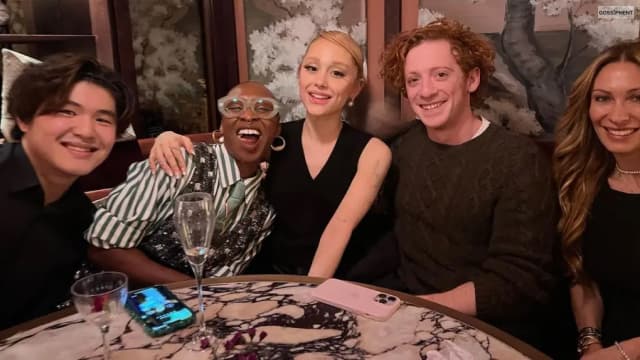 The duo was joined by another friend on their stroll, which took place a day after the pop sensation's 30th birthday. Reps for both the stars have not responded immediately to whether they are now dating.
TMZ has, however, reported previously that the Grammy winner and the Broadway actor have been dating for "several months," so it could be possible that they had become romantically involved when the photo was taken. 
The new flames have been shooting for their upcoming musical fantasy, Wicked, in the UK for the past year. They were married to their spouses when the shooting began but have both since separated.
Grande split from her husband after not being able to make their marriage work post their COVID-19 life. Whereas Slater was sharing a much more happier marriage with Jay at his end. He shared a sweet tribute on Mother's Day to appreciate the mother of her 11-month-old son.
"Happy first Mother's Day to the most loving caring and wonderful mom/person in the world," he wrote. 
Jay has lashed out at Ariana, remarking that she is "not a girl's girl." "My family is just collateral damage," she added. Slater has been said to have "abandoned" his family, although Sources insist he is "determined to have a major presence in [his son's] life." The actor is reported to "desperately" want to co-parent.
Slater has filed for divorce from Jay on Wednesday. The couple were high school sweethearts and have been together for the last 10 years.
Trending on Gossipment:
👉 'Billions Club: The Series' Trailer Stars Post Malone, Bad Bunny, And Billie Eilish
👉 Double Vacation: Kevin Costner And His Wife Took Their Kids To Vacations Separately