A Pillow Princess? Bianca Censori Steps Out In Sheer Again Using A Pillow As Cover!
Celebrities News●0 min read●
She is sheerly predictable!
West's wife, Biance Censori, recently stepped out in sheer again, but this time, she accessorized her sheer dress with a purple-colored couch cushion.
The 28-year-old Yeezy architect was papped leaving a hotel in Florence early on Wednesday morning in her see-through, go-to nude tights.
But the most unusual aspect of Censori's whole look was her footwear she she was seen spotting clear pumps for her outing. West was seen accompanying her is his all-time favorite black getup featuring a cloth covering his face and head, socks, slouchy pants, and an un-hemmed loosely fitted t-shirt – but with no shoes.
The 46-year-old rapper and his wife were enjoying a day of shopping at Marni, both dedicated to wearing head-turning attire.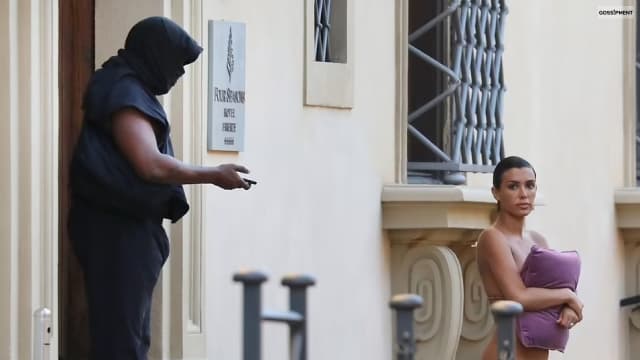 Wait, What's So Odd Here?
As per local paps, Censori wore the same clothes along with the pillow during dinner really late on the night before.
Is it possible that the Melbourne-based It girl is trying to be discrete in the middle of an Italian investigation into her and her husband's recent behavior?
Late last month, the couple actually made headlines in Venice for a boat ride when West was caught with his trousers down. Immediately, Venezia Turismo Motoscafi, the water taxi company, banned the transgressors for life. They were accused of breaking the basic standards of decorum in the public.
A law enforcement source told Daily Mail, "The images show the couple clearly in a state of intimacy, and if the local prosecutor decides to press charges, then we will notify the couple, most probably through the relevant embassies. Plus, we have also received complaints from people who witnessed the ordeal. The offense being investigated is acts contrary to public decency, which is punishable by an administrative sanction."
Elisabetta Pesce, the councilor for public security of Venice, added that the photographs of the pair show that they lack respect for the city.
The Bianca- Kanye Mystery!
Meanwhile, Bianca's friends are worried about her marriage to the Grammy winner, who had allegedly made it almost impossible for them to get in touch with her.
A close friend told Daily Mail on Wednesday, "Bianca is stuck, and her friends are trying to save her, but no one can because of the blockades Kanye has put up [around her]. Everyone is extremely concerned. This isn't who she is. She is an incredibly outspoken and lively person who is never one to keep her mouth shut."
The source also mentioned that Censori has literally nobody in her life at the moment apart from West, calling the entire situation scary.
In January, West married his employee from Yeezy in a wedding ceremony that was not legally binding, only two months after his divorce from Kim Kardashian became final. He shares four children with the reality TV star.
Read Next:
■ Danny Masterson Sentenced To 30 Years In Prison In Rape Retrial
■ Zyan Bryan Taken Into Police Custody, Days After Making His No.1 Album