'Billions Club: the Series' Trailer Stars Post Malone, Bad Bunny, and Billie Eilish
Music News●0 min read●
Billie Eilish, Bad Bunny, and Post Malone are celebrating the billions club with Spotify. The Billions Club: the series was announced by Spotify on Wednesday. These three stars were the first ones to take part in. The series will be of the top hits on TikTok and Instagram.
Ashley Graver, Head of Pop, Dance, and Indie Artist Partners, told People, "Spotify's Billions Club was first established as a celebration of artistry and the cultural impact of incredible songs. Billions Club: The Series is going to take that to the next level."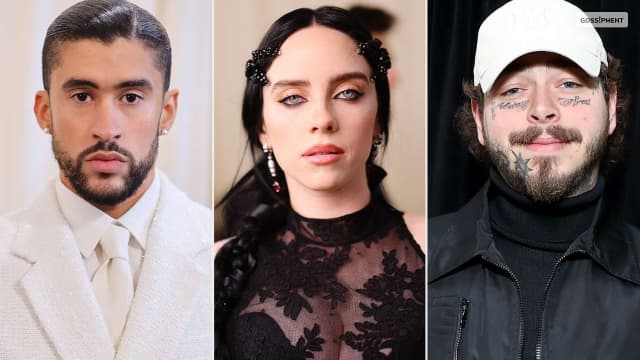 In this video series, the stars will be given the opportunity to choose how they want to celebrate their one song, which is hitting a billion streams through the creation of a unique experience along with their Spotify Billions plaque.
The teaser trailer, which was shot by OBB and produced as well, has a little peek at how each of the musicians is celebrating their milestone. "How am I supposed to believe that a billion people have listened to this song," the "TV" singer, 21, says, as the "WHERE SHE GOES" singer, 29, adds, "Well, we're here celebrating the success of my music on Spotify."
28 years old Malone said, "It feels super cool that this song does connect with people. And I'm just happy to bring joy into anyone's life when I can." After that, the screen goes black, and the words "big songs," "bigger artists," and "billons of streams" come in big letters. The teaser did not reveal any launch date, just that the words "coming soon'' was written.  
Graver also said, "Our goal at Spotify is always to bring fans closer to the music and artists they love. OBB, who shot and directed the series, perfectly captured the euphoria from each artist as they commemorated their milestones in their own unique ways. We're looking forward to seeing the reaction to the series and for listeners globally to share the joy that music brings."
The series is basically the extension of the Billions Club, which is a playlist that was initially launched in 2020. This includes every song that has crossed the major milestones. After their achievement, this was gifted to the artists.
Presently, Puerto Rican has four songs from the album Un Verano Sin Ti, which was released in 2022 in the Billions Club. Malone has got two songs on that list, and Eilish has one.
Trending on Gossipment:
👉 Randy Meisner, Died At The Age of 77, On Wednesday In Los Angeles
👉 Shannon Beador Gets 'Removed' After Getting 'Wasted' and 'Screaming' At Ex's Daughter
👉A24's Sports Drama Featuring Zac Efron And Jeremy Allen White, Slated For Christmas Release