Britney Spears Posted A Video Of Her Dancing With Two Huge Butcher Knives
Celebrities News●0 min read●
Britney Spears is displaying her year-long fascination with knives as she dances with two massive butcher knives. She posted a video holding those shaped knives in hand and captioned it, "I started playing in the kitchen with knives today." She clapped the blades dangerously as she danced with the two knives.
The whole thing turned out to be quite dangerous as Spears was clearly not trained to handle those sharp tools, but she jabbed those in the air as well. Though she made a claim that she started playing with knives that very day, TMZ made a report months ago where they mentioned her fascination with knives.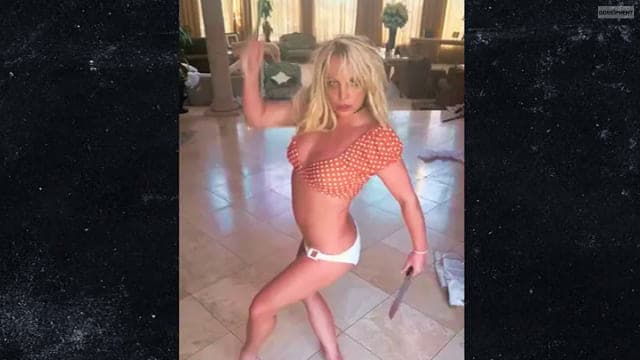 Whether conservatorship ended, those who took care of her gave a list of recommendations, and one of those mentioned keeping knives away from her. There have been reports from multiple sources who said that Britny thinks of knives as something that would protect her.
It has been reported that she keeps knives all over her house, even in her bedroom. One of the sources mentioned that she "was paranoid someone was going to get her, and she needed the knives as protection."
Now that Sam Asghari is no longer with her and there is no other person with her to make sure that she remains safe, a video like this is quite alarming.
MORE FOR YOU:
👉 David McCallum, Star From "The Man From U.N.C.L.E." Died
👉 Selena Gomez Is Showing Off Her Curves In Her Corsetted Look In Paris