It's A Destination Wedding For Bachelor In Paradise Duo Hannah Godwin And Dylan Barbour
Celebrities News●0 min read●
Bachelor Nation alums Hannah Godwin and Dylan Barbour got married in a romantic destination wedding set in Paris on Wednesday.
Jason Oppenheim of Selling Sunset confirmed the news with his Instagram story, "Congrats to Dylan & Hannah on the most beautiful Parisian wedding ever!!!"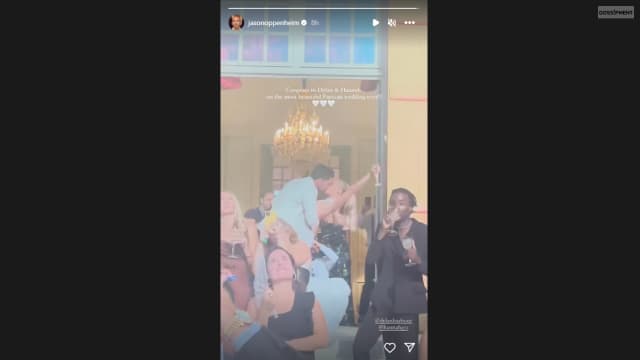 The real estate broker shared a snippet from the wedding where the couple can be seen kissing after their vows. Godwin can be seen holding a glass of champagne in the air while Barbour leans in for a passionate kiss in front of the guests.
The couple got engaged in Season 6 of the reality matchmaking show "Bachelor in Paradise." When their TV journey ended, they focused on buying a home.
In May 2022, however, Godwin told People (a news outlet) that they were "back on the wedding planning route." She explained further, "We've lived in four places together, essentially owned two houses. Both our moms live five blocks away. So it's kind of just like, 'Yeah, I feel like we're married.'"
Godwin, 28, teased while in conversation with Extra that their wedding could be a multi-day event with different themes. "Each day kind of has its own theme. It's kind of fun and different, versus it feeling kind of, like, all the same."
The Alabama local also expressed interest in starting a family, although parenthood is not on the cards in the immediate future. Talking about her now husband, she had gushed, "I think [Barbour] would be the most awesome dad ever." "Not seeing it super soon in our future, I think we want to be married and kind of embrace that for a while," Godwin concluded.
Previously courting Hannah Brown on "The Bachelorette" Season 15, Barbour hit it off with Godwin later.
Trending on Gossipment:
👉 Kanye West's 'wife' Bianca Censori turns heads in see-through 'naked' top and tights in Italy
👉 Justin Bieber "Hasn't Talked" to Scooter Braun In Nearly A Year, Working On New Album Without Him: Insider