Here Without You: Celebrities Who Left Us In 2022
Celebrities●0 min read●
In the year 2022, a lot of significant events happened as Russia invaded Ukraine, Tensions between powerful nations US and China became tense, the Political system in the UK crumbled and COVID got eased up.
But in the year 2022, we lost a lot of imminent personalities and popular celebrities like the famous Sidney Poitier and Bob Saget. So with the utmost respect and grief, here is the list of personalities who we have lost in the year 2022.
At moments like these, I can only think of the song, 'Here Without You,' by 3 Doors Down.
"A hundred days have made me older
Since the last time that I saw your pretty face
A thousand lies have made me colder
And I don't think I can look at this the same
But all the miles that separate
Disappear now when I'm dreaming of your face"
"I'm here without you, baby
But you're still on my lonely mind
I think about you, baby
And I dream about you all the time
I'm here without you, baby
But you're still with me in my dreams
And tonight, it's only you and me, yeah"
"The miles just keep rolling
As the people leave their way to say hello
I've heard this life is overrated
But I hope that it gets better as we go
Oh yeah, yeah"
"I'm here without you, baby
But you're still on my lonely mind
I think about you, baby
And I dream about you all the time
I'm here without you, baby
But you're still with me in my dreams
And tonight, girl, it's only you and me, yeah"
"Everything I know, and anywhere I go
It gets hard, but it won't take away my love
And when the last one falls
When it's all said and done
It gets hard, but it won't take away my love
Whoa, oh, oh"
"I'm here without you, baby
But you're still on my lonely mind
I think about you, baby
And I dream about you all the time
I'm here without you, baby
But you're still with me in my dreams
And tonight, girl, it's only you and me
Yeah
Oh, yeah"
Queen Elizabeth II
One September 8th, 2022, the "longest reigning British monarch," Queen Elizabeth II, died at the age of 94. Tributes from all over the world poured in and paid their tribute to the loss of the extraordinary leader.
Sidney Poitier
One of the most grief-stricken when the first Academy Award Winner black man, the death of Mr. Sidney Poitier at the beginning of 2022, 6th January. "The Defiant Ones," is the movie that won him the Oscar award.
Olivia Newton-John
It came as a shock when the actor turned singer, of the cult popular movie "Grease," Olivia Newton-John died at the age of 73, after a life of fighting breast cancer. 
From songs like, "I Honestly Love You," "You're the One That I Want," and "Physical,", especially from the hit movie Grease.
Bob Saget
We lost the "Full House" actor Bob Saget on January 10th, after suffering a fall at an Orlando hotel where he was staying. His death was unexpected and came as a shock to friends, family, and fans.
Coolio
Known best for his No.1 hit song, "Gangsta's Paradise," Coolio left us at the young age of just 59. Other than rapping, he also appeared in movies like "Batman & Robin," "Martin," "Judgement Day," and "Leprechaun in the Hood."
Ray Liotta
Best known for his roles in "Good fellas" and "Field of Dreams," the death of actor Ray Liotta came as a shock for everyone since he was shooting for a movie called "Dangerous Waters" in the Dominican Republic.
Meat Loaf
The "unlikely rock star" Meat Loaf, left us on 21st January.
"His amazing career spanned 6 decades that saw him sell over 100 million albums worldwide and star in 65 movies, including Fight Club, Rocky Horror Picture Show, Focus, and Wayne's World."
Estelle Harris
Played the hot-tempered mother of the character Jason Alexander's George on Seinfeld, we lost Estelle Harris at the age of 93 on 4th April. She also famously portrayed Mrs. Potato Head in "Toy Story."
Remembering her Alexander wrote,
"The joy of playing with her and relishing her glorious laughter was a treat. I adore you, Estelle. Love to your family. Serenity now and always."
Robbie Coltrane
The whole Wizarding World was brokenhearted when we lost our beloved Hagrid, Robbie Coltrane, at the age of 72 on 14th October. He left us all heartbroken, and here without you. 
Earlier that year, for the 20th anniversary of Harry Potter, Robbie Coltrane said, which will haunt us Potterheads forever,
"The legacy of the movies is that my children's generation will show them to their children… So you could be watching it in 50 years' time, easily… I'll not be here, sadly… but Hagrid will, yes."
Barbara Walters
One of the legends in the world of Journalism, Barbara Walters left us on 30th December at the age of 93.
A representative told,
"Barbara Walters passed away peacefully in her home surrounded by loved ones. She lived her life with no regrets. She was a trailblazer not only for female journalists but for all women."
Pope Benedict XVI
The Pope Emeritus, he served as the pope from 2005 to 2013, resigned from his post due to failing health reasons, and died on 31st December. He is the first pope to ever resign from his post ever since 1415 by George XII.
Pele
The football legend King Pele, left all his fans on 29th December, after battling with colon cancer at the age of 82. He is the three-time World Cup champion.
On his Instagram page, it was uploaded,
"Inspiration and love marked the journey of King Pele, who peacefully passed away today. On his journey, Edson enchanted the world with his genius in sport, stopped a war, carried out social works all over the world, and spread what he most believed to be the cure for all our problems: love."
Vivien Westwood
The rebellious Vivien Westwood, who introduced punk symbolization to traditional feminine fashion died at the age of 81. She was the one who brought a new wave of fashion architecture into British culture. Her influence in fashion is unmatched by anyone else.
Thierry Mugler
He was best known for his avant-garde and dramatic design styles, this year we lost yet another celebrity fashion designer, Thierry Mugler, at 73 years of age. He began his career by creating amazing looks for celebrities like Madonna, Michael Jackson, and Diana Ross.
Aaron Carter
It came as a shock when the teen pop star and younger brother of Nick Carter of the Backstreet Boys, Aaron Carter suddenly passed away at the age of just 34.
The pop star became a major hit in the 90s and an even bigger one in the 2000s. The star in 2021, welcomed a son, with his then-girlfriend Melanie Martin.
Stephen 'twitch' Boss
Best known for being the DJ in "The Ellen DeGeneres Show," we lost the amazing twitch, by suicide. He left behind his wife and their three kids.
Boss first became famous when he became the runner-up on the fourth season of "So You Think You Can Dance."
Bob McGrath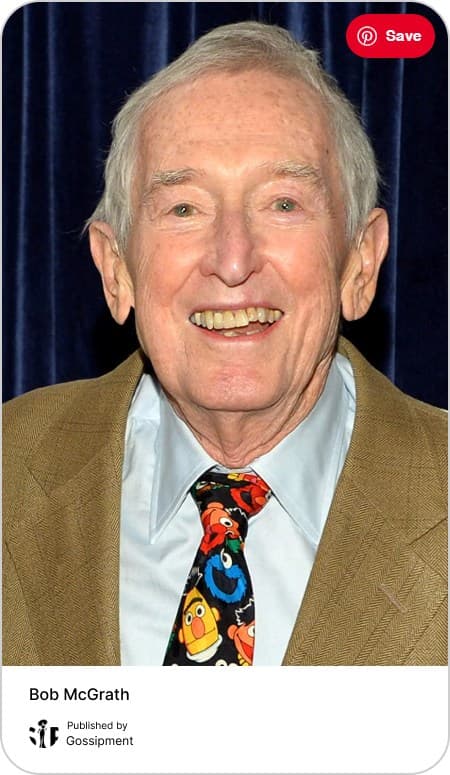 One of the original cast members of "Sesame Street," Bob McGrath died after staying with the kid's show for over half a century, at the age of 90.
Following his death, Sesame Workshop tweeted,
"A founding cast member, Bob embodied the melodies of Sesame Street like no one else, and his performances brought joy and wonder to generations of children around the world, whether teaching them the ABC's, the people in their neighborhood, or the simple joy of feeling music in the hearts."
Peter Bogdanovich
The highly acclaimed Oscar-nominated director Peter Bogdanovich left us at the age of 82. He made films like "The Last Picture Show," "What's Up, Doc?" "Mask" and also "Paper Moon."
Christine McVie
The Keyboardist and singer-songwriter Christine McVie of Fleetwood Mac left us here without you at 79 years of age.
Band member Stevie Nicks paid tribute by writing,
"A few hours ago I was told that my best friend in the whole world since the first day of 1975, had passed away. I didn't even know she was ill until late Saturday night. I wanted to be in London; I wanted to get to London – but we were told to wait. So, since Saturday, one song has been swirling around in my head, over and over and over. I thought I might possibly get to sing it to her, and so, I'm singing it to her now. I always knew I would need these words one day. Written by the Ladies Haim. is all I can do now…"
Leslie Jordan
Best known for his role in "Will & Grace," for which he got an Emmy, Leslie Jordan died suddenly due to a car accident, at the age of 67. He appeared in shows like American Horror Story, Call Me Kat, and Hearts Afire.
A spokesman said,
"What he lacked in height he made up for in generosity and greatness as a son, brother, artist, comedian, partner, and human being. Knowing that he has left the world at the height of both his professional and personal life is the only solace one can have today."
Angela Lansbury
An enduring, venerated, and prolific star, Angela Lansbury passed away at 96 years of age. She was known for popular series like Murder, She Wrote, and movies like The Picture of Dorian Grey, The Manchurian Candidate, and Gaslight. She was also the voice of Mrs.Potts for the Disney movie Beauty and the Beast.
James Caan
Acting in movies like "The Godfather,", "Elf," and "Misery," Oscar-nominated actor James Caan died at 82 years of age. He was best known for playing the role of Sonny Corleone in The Godfather.
Tony Sirico
Known best for his role as Paulie Walnuts, in the hit HBO, show The Sopranos, Tony Sirico left us at the age of 79.
Remembering him, co-star Michael Imperioli said,
"Tony was like no one else: he was tough, as loyal, and as big-hearted as anyone I've ever known. I was at his side through so much: through good times and bad. But mostly good."
Gilbert Gottfried
Following his friends Bob Saget and Louie Anderson, comedian Gilbert Gottfried left us as well. He died due to a rare heart disease, at 67 years of age. He uploaded a photo of the three of them just after Saget's death which is haunting.
Taylor Hawkins
The amazing and charismatic drummer of Foo fighters, Taylor Hawkins, died unexpectedly while on tour at the age of 50. Their band was recently on 2021 was inducted into the Rock and Roll Hall of Fame.
Emilio Delgado
Best known for his role as "Luis" in Sesame Street, Emilio Delgado left us at 81 years of age.
Sesame Workshop tweeted,
"A beloved member of the Sesame family for over 50 years, his warmth and humor invited children to share a friendship that has echoed through generations.
At the forefront of representation, Emilio proudly laid claim to the 'record for the longest-running role for a Mexican-American in a TV series.' We are so grateful he shared his talents with us and with the world."
Sally Kellerman
This Oscar-nominated actress for her role in MASH as Margeret "Hot lips" Houlihan, Sally Kellerman died at the age of 84.
Louie Anderson
Known as one of the best comedians of the 1980s, Louie Anderson died fighting cancer at the age of 68 due to cancer. He also won an Emmy award for his great work in the show "Baskets." 
Ronnie Spector
The singer of songs like "Walking in the Rain," "Be My Baby," and "Take Me Home Tonight" along with her band The Ronettes, Ronnie Spector, left us at the age of 78.
After her death, her family said,
"Ronnie lived her life with a twinkle in her eyes, a spunky attitude, a wicked sense of humor, and a smile on her face."
Andre Leon Talley
"Vogue's first Black creative director," Andre Leon Tally was a fashion journalist. This legend in the fashion world died at the age of 73, leaving everyone like Naomi Campbell, Anna Wintour, Marc Jacobs, and Diane von Furstenberg grieve-stricken. 
Wintour said in Vogue,
"The loss of Andre is felt by so many of us today: the designers he enthusiastically cheered on every season, and who loved him for it; the generations he inspired to work in the industry, seeing a figure who broke boundaries while never forgetting where he started from. "
Wrapping Up!
Losing a loved one or a celebrity you admired for a long time is never easy, rather it's really hard. At times like these the only song that I can remember is by 3 doors down Here Without You.
So if you liked this article then comment down below and comment down below, who's death hurt you the most.
Read Also:
◼ Party In The USA: Hollywood's Best Who Won't Stop Partying
◼ Slow Dancing In A Burning Room: Who Are The Most Toxic Celebrities Of 2022?
◼ Disney Turns 100 In 2023: Top Underrated Disney Movies To Watch This January