It Seems Rocky Ahead For Prince Harry And Meghan Markle: Report
Celebrities News●0 min read●
It is about to get slippery for the renegade royal couple, Prince Harry and Meghan Markle. Their marriage is reported to be hanging by a thread. RadarOnline broke the news that the Duke and Duchess of Sussex may have taken some "time apart" to find common ground to rebuild their relationship.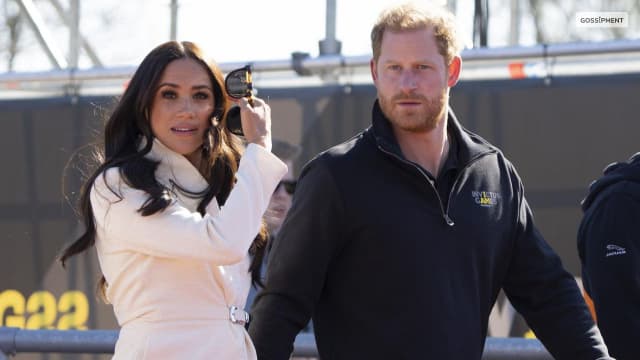 A source revealed to the news outlet, "They're trying to figure out what hit them. Harry doesn't fit in Meghan's tacky Tinseltown world," and that he is looking to "find himself." But an insider refuted the claims and assured that such speculations are inaccurate, saying, "It's not true, it's literally made up."
Harry, 38, is all set to return to Africa on a solo visit for a new Netflix documentary. He is said to feel "most like himself" when visiting the continent, considering it a "second home."
The source also said that the couple is "under tremendous financial pressure to fund their lavish California lifestyle, including their $14 million mansion and huge security costs." Stepping back from being senior members of the British royal family and moving to their Montecito home in California in March 2020 has proven to be a hefty decision. 
"That stress, coupled with their emotional issues, has likely made life a living hell," the source continued, "Taking time apart on different continents will hopefully help them find whatever they need to move on." Another source said Harry may be "living in another place," having "sold their mansion in Montecito."
The couple's Spotify fiasco could have taken a huge toll on their marriage. It had come to an abrupt end with their "Archetypes" podcast never seeing a second season. It was told at that time that the couple had failed to come up with ideas for the audio program.
Harry, on the other hand, had pitched for a lineup of interviews with Donald Trump, Mark Zuckerberg, Vladimir Putin, and Pope Francis that left the executives "puzzled." Bill Simmons, a top executive at Spotify, called the couple "f–ing grifters."
Harry shares share two children with Meghan, 41 – son Archie (4) and daughter Lilibet (2).
Meghan was seen out and about at the Montecito Farmer's Market with one of her beagles, inspite of the market's "no dogs allowed" policy.
Have you read these?
👉 Sofía Vergara And Joe Manganiello's Divorce: Who's Getting What
👉 'This Is Us' Isn't Making Mandy Moore Any Richer, The Residual Checks Show For It
👉 Ariana Grande Has 'No Tears Left To Cry' While Enjoying A Girls' Day Out With Cynthia Erivo, Amid Divorce News