Justin And Hailey Bieber Celebrated Their Marriage Anniversary: Shared Cozy Posts On Instagram
Celebrities News●0 min read●
It is the fifth marriage anniversary for Justin Bieber and Hailey Bieber. The 29-year-old singer confessed his love for his 26-year-old wife on the occasion of the marriage anniversary through a post on Instagram.
He wrote, "To the most precious, my beloved, 5 years. You have captivated my heart. I know from the depths of my soul down to my bones that this journey with you will only exceed our wildest expectations. So let's keep dreaming big baby. Cheers to forever and ever. I love you with every fiber of my being. HAPPY 5TH YEAR ANNIVERSARY!!!"
He posted the caption with a slideshow of images that showed the couple spending some quality together over all these years. The cover photo showed the couple kissing in a close-up.
The second image has Hailey sitting in front of a cake with flowers and candles while Justin Beiber stands by her side, embracing her with one arm. The model wore a diamond necklace with the letter B, symbolizing their last name.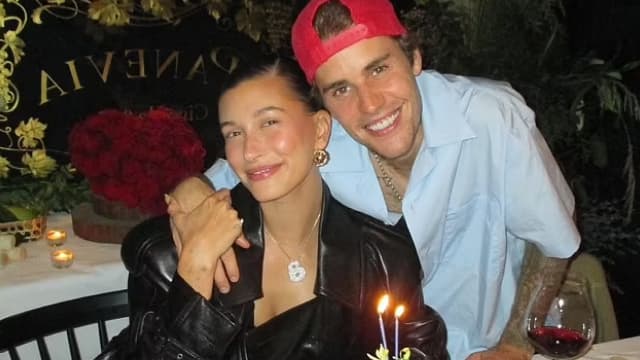 Hailey also posted something on her Insta handle celebrating their five-year milestone. She wrote, "5 ✨🤍 I love you." She posted a few of the same pictures that her husband shared. The last shot had Justin hugging her from behind and giving her a peck on the cheek while both of them smiled for the camera.
Their whole relationship grew in front of the camera. The first time they met, the model was only 12 years old. They met one another several times, but it was in 2015, at Leonardo DiCaprio's party, where they were potted kissing on camera where Justin Beiber performed. After that, they got engaged in July and got married in September.
Difficult times can also have positive outcomes
In 2022, in an interview for her skincare line, Hiley Beiber revealed their struggles with their health issues, Justin's Ramsey Hunt Syndrome, and her stroke, but she also mentioned how tough times can bring out something positive.
On Live With Kelly and Ryan, she said, "Honestly, the silver lining in the whole situation — what he went through, what I went through — is it really bonds you. I feel like we're closer than ever. It really brings us close. So I'll take that away from it. Justin interviewed Hailey for the Vogue cover story, where she revealed, "My favorite thing about being married is honestly the companionship I feel we have. Genuinely, you are my best friend in the entire world. There's nobody I would rather spend more time with or do anything with."
TRENDING STORIES:
■ Taylor Swift Has A Blank Space On Her Finger After Losing $12K Diamond Ring At The VMAs 2023
■ Deadpool 3: Major Reunions To Be Expected, Including Dafne Keen, Who Was In Talks To Reprise Role Before Strikes