Justin And Hailey Bieber Twin In Casual Looks For An NYC Lunch Date
Celebrities News●0 min read●
Justin and Hailey Bieber made their way in and around the Big Apple, twinning in style!
The pair was spotted going on a lunch date in NYC, twinning in white shirts. The 26-year-old model and influencer kept her style casual with loose-fit denim shorts, a white crop top, and minimal Gold jewelry. Hailey completed the outfit with a pair of white ankle socks and black moccasins.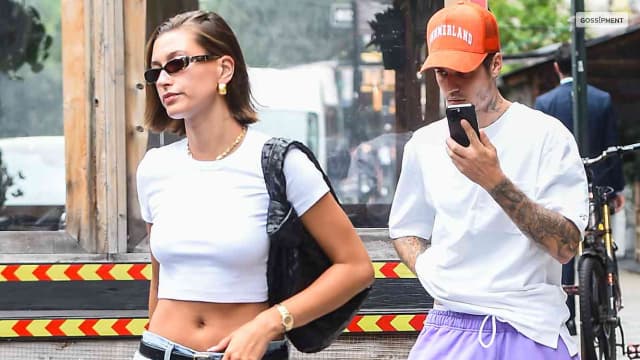 The 29-year-old Canadian singer was sporting pastel purple shorts and a white t-shirt. Bieber finished his look by adding color with a bright baseball cap in orange.
This is one of the many dates the couple has been spotted on together since their wedding in 2018. In the month of May, the pair were spotted in London, out on a date night at the ​​Chiltern Firehouse right after Hailey announced the launch of Rhode in the United Kingdom. They followed the London trip with a romantic getaway to the beautiful French Riviera.
Hailey shared several glimpses from her tropical getaway with her husband on Instagram, including a cute video of Justin carrying her on his shoulder. The Rhode-founder also gushed about her husband recently when asked about having kids in the near future.
The model told The Sunday Times, "I literally cry about this all the time. I want kids so bad, but I get scared. It's enough that people say things about my husband or my friends. I can't imagine having to confront people saying things about a child."
She also added, "We can only do the best we can to raise them. As long as they feel loved and safe."
In February, Bieber interviewed his wife for Vogue Australia. During this interview, Hailey revealed to the world the favorite aspect of her marriage with Justin.
"My favorite thing about being married is honestly the companionship I feel we have. Genuinely, you are my best friend in the entire world. There's nobody I would rather spend more time with or do anything with."
Last year, Hailey spoke to Harper Bazaar about what it takes to actually make her marriage with Justin work.
In this context, she said, "At the end of the day, like, he's my best friend, but it still does take a lot of work to make it work. And then I know eventually, when kids come in the picture, that's going to be a whole other season of navigating how to make that work."
Have you read these?
👉 Kylie Jenner Claims That She Has Stopped Heavily Editing Her Photos On Instagram!
👉 Sofia Vergara And Joe Manganiello Had Filed For Divorce After Their Split Announcement
👉 Dolph Lundgren, 65, Marries A 27-Year-Old Emma Krokdal In Greece While Battling Cancer