Karishma Tanna, Nominated For "Scoop", At Asia Contents Awards & Global OTT Awards 2023
Web Series●0 min read●
"Scoop," the Netflix show, along with its lead actress Karishma Tanna got nominated for the Asia Contents Awards & Global OTT Awards 2023. The organizers made the announcement on Tuesday.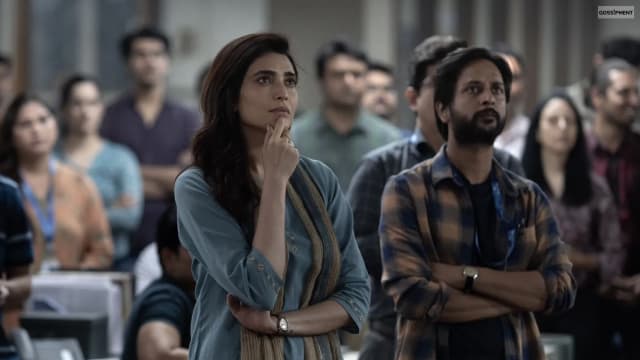 The Asia Contents Award & Global OTT Awards 2023 is the annual event held to celebrate the notable achievements of the amazing content made for OTT, TV, and any other online content made across Asia. The Korea Radio Promotion Association and Busan International Film Festival organise the event.
While the Netflix show Scoop got its nomination for Best Asian TV Series, Karishma Tanna was nominated for Best Lead Actress. The series is about a crime reporter for a Mumbai newspaper, Jagruti Pathak (Karishma Tanna), who herself comes under the spotlight when she is accused of the murder of her rival, Jaideb Sen.
Mrunmayee Lagoo Waikul and Hansal Mehta created this Hindi series that premiered this June on Netflix. Hansal Mehta also directed the series and congratulated the whole team for the "great honor." The series was created under the banner of Matchbox Shots production, and the show is inspired by the biography of Jigna Vora, "Behind the Bars In Byculla: My Days in Prison."
Mehta made a post on X saying, "#Scoop on @NetflixIndia nominated for ACA and Global OTT Awards. – Best Asian Series – Best Actress @KARISHMAK_TANNA… A great honour for the entire team. This is all because of them. Congratulations partner in crime @mrunmayeelagoo @MatchboxShots."
Scoop would have to compete with "Not Others," a South Korean series, "Delete," a series from Thailand, "The Black Yard" from Kazakhstan, and "Taiwan Crime Stories" from Taiwan to win the Best Asian TV Series category. The other actresses who got nominated for the best actress besides Tanna are Song Hye-Kyo, Zoe Saldana, Rebecca Lim, and Emily Chan.The event will be held in the BIFF Theatre on October 8th, during the Basun International Film Festival. The festival will continue from October 4 to October 15.
Have you read these?
■ Another Year, Another Win: Taylor Swift Won The Most Awards At VMA 2023
■ Kylie Jenner And Timothee Chalamet Are Growing a Romance Rumor With Their Photographs