Kevin Spacey was seen celebrating after being acquitted of sexual assault at a top club in London. The Academy Award Winner was spotted with a whiskey with friends at a private members' spot in Groucho Club in Soho on Wednesday night.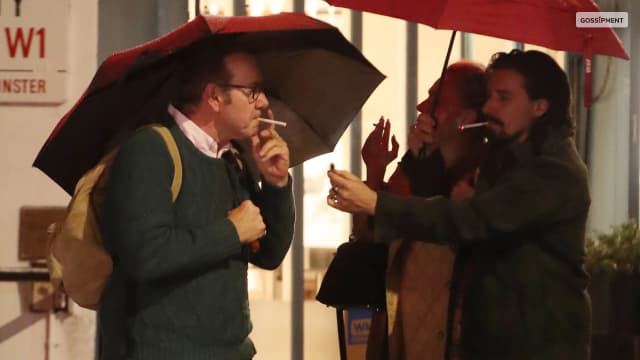 He was also ringing in his 64th birthday, hours after being found not guilty of sexually assaulting four men. Spacey had a backpack that featured a "be kind" button was seen in relatively high spirits. He had previously broken down into tears while outside of Southwark Crown Court that day. 
"He looked very proud," An onlooker reported, "He was sitting by the entrance for everyone to see." Another eye-witness added that he was celebrating with about 7 friends. "He spent the evening nursing a whiskey," the source further explained, "They didn't sing 'Happy Birthday,' but everyone seemed in good spirits."
The House of Cards star thanked his friends for supporting him through the arduous time, mentioning especially his long-time pal and manager Evan Lowenstein, who also joined him to celebrate. Spacey was seen wearing a casual sweater and pants, leaving the club just after midnight while it rained. He had an umbrella to keep from drenching.
The actor cried with tears rolling down his cheeks as the final verdict of "not guilty" was read out. He later explained that he was "humbled." "My world exploded," Spacey had testified, "There was a rush to judgment and before the first question was asked or answered, I lost my job, I lost my reputation, I lost everything in a matter of days."
Spacey had admitted to being a "big flirt", having consensual flings with men with the only mistake of having touched a man's groin in a bid to make a "clumsy pass." The number of charges amounted to nine.
The "House of Cards" actor was accused of aggressively grabbing crotches of three men. They described him as a "slippery snake" and a "vile" predator. A fourth witness, who is an aspiring actor, allegedly found Spacey performing oral intercourse on him after waking from sleep. He had passed out in Spacey's London apartment, where he had apparently gone for a beer and some career advice.
Have you read these?
■ Irish singer Sinead O'Connor passes away at the age of 56
■ Mick Jagger's 80 Years Of Prominence: Happy Birthday, Rockstar!
■ Punk Group, Anti-Flag Denied All The Sexual Assault Accusations After Their Sudden Breakup