Megan Thee Stallion And Justin Timberlake Were Not Fighting In The VMAs Video, 'She Was Excited': Sources
Awards●0 min read●
No love lost between Megan Thee Stallion and Justin Timberlake.
A viral video shot backstage had surfaced that appeared to show the rapper and the "Mirrors" singer in the middle of a heated exchange. The video was taken during the 2023 MTV Video Music Awards on Tuesday night. Their brief conversation was, however, anything but angry, sources claim.
In the footage, Megan is seen getting her hair touched up backstage when Justin and his former NSYNC bandmates walk by.  When they walk by, Megan waves an enthusiastic finger at the star, and he smiles while waking away. NSYNC member Joey Fatone is also seen laughing.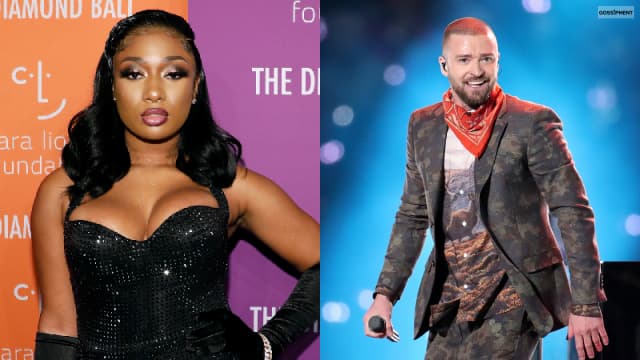 The insider has revealed that Megan actually said that she wanted to meet and hang out with Justin under less chaotic circumstances.
"He said, 'It's so nice to meet you,' and she said, 'No, no, this don't count, this don't count. We gotta meet proper,'" the source explained. A second source close to the incident adds that there was definitely no tension between the musicians.
"Meg loves Justin," the source added. "She was saying, 'No, no, no, we've never met before!' It was their first time meeting and she was excited."
Megan was at the award show to perform her latest song, "Bongos," alongside Cardi B, while Timberlake had a reunion with his former bandmates Fatone, Chris Kirkpatrick, JC Chasez, and Lance Bass to present Taylor Swift with the award for the best pop video.
The "Anti-Hero" singer was thrilled by the group's appearance and fangirled over them while receiving the award. "I had your dolls," she said as she accepted the award. "Like, are you doing something? What's going to happen now … They're going to do something and I need to know what it is." Swift went on, "You're pop personified, so to receive this from your golden pop hands is really … it's too much. Thank you for the friendship bracelets."
Read Also:
■ Another Year, Another Win: Taylor Swift Won The Most Awards At VMA 2023
■ NSYNC Reunited On The VMA Stage, And Taylor Swift Fangirled Out On Them