Taylor Swift Attended Travis Kelce's Game Along With His Mother Amidst Dating Rumors
Celebrities News●0 min read●
Tylor Swift is generating dating rumors with Travis Kelce. The "Love Story" singer went to watch the game between Kansas City Chiefs and Chicago Bears with Donna Kelce, the NFL star player's mom, at Arrowhead Stadium on Sunday.
Swift dressed up in the team color and sported a white top underneath a white and red zip-up jacket. She had her signature red lips and kept her straight hair down. Swift, who seems to be in her WAGS era, cheered for her rumored partner and the NFL player's mother, who wore her son's number on a chief jersey.
Travis and Swift have been sparking rumors about their budding romance for a while now since the player mentioned that he wished to give Swift his number back in June at her Eras Tour. Travis shared that he has invited Swift to one of his games.
He made an appearance on "The Pat McAfee Show" last Thursday and said, "I told her, 'I've seen you rock the stage in Arrowhead, you might have to come see me rock a stage at Arrowhead and we can see which ones a little more lit. We'll see what happens in the near future."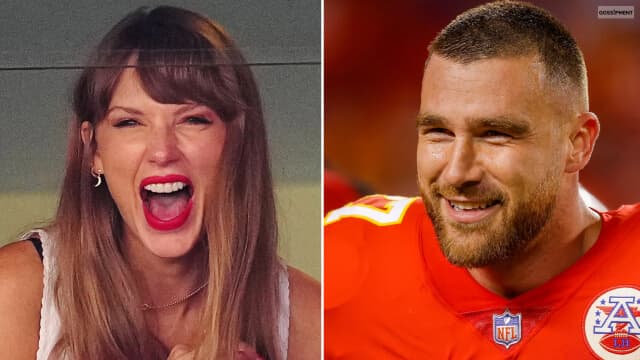 "Stop Asking My Brother About My Love Life," Said Travis  
Travis even addressed the rumors that have been going on and said, "No one knows what's going on, especially when you've got Jason Kelce on live television telling people both sides." He referred to the interview where his brother joked that the rumors were true.
He added, "He goes on 'Thursday Night Football' … the first thing he brings up is [his former reality show] 'Catching Kelce.' Then, not even a week later, he's telling everyone it's 100 percent true … the guy is absolutely [ridiculous] he can't stay out of the f—king headlines."
Swift has not addressed the matter publicly, but her presence at the game intensifies the rumors. A source said, "It's nothing serious. She thinks he is very charming, and they have been texting this last week. He is a little embarrassed at how much attention they are getting, but he has told her he would love to continue seeing her."
Swift was linked with Matty Healy, the 1975 frontman, after she separated from Joe Alwan, her long-term boyfriend, after being together for six years. Travis dated Kyla Nicole, the model, on and off for five years before they separated in May 2022.
Recommended Reading:
■ Dany Masterson Was Unsurprised And Aware That Bijou Phillips Would File For Divorce
■ Anne Hathaway Talks About The Postpartum Journey: Appreciates Her Body After Having Kids