Bollywood Celebrities Who Recently Bought Mercedes Maybach GLS
Bollywood●0 min read●
Ranveer Kapoor making headlines with his impressive choice of clothes is not the trending news anymore. Instead, he decides to buy not one but two luxurious SUVs within a few months, which grabs our attention even more. Of course, an SUV gives you the comfort and feel of a premium sedan, but the towering structure of the vehicle itself makes it worth looking at when it honks on the road. So, let's check the celebrities who brought the recently launched Mercedes Maybach GLS this year.
Ranveer Singh
After Lamborghini Urus, Bollywood Actor Ranveer Singh brings home all new Mercedes Benz Maybach GLS 600.#ranveersingh #bollywood #luxurycars #mercedes #newcar #maybach #mercedesgls #maybachgls pic.twitter.com/Oi9fq31HzX

— Team Car Delight (@teamcardelight) July 7, 2021
We spotted Ranveer in front of Rohit Shetty's bright yellow Lamborghini Urus outside his dubbing studio. But, it looks like the car impressed the actor so much that he got one for himself. His Urus comes with a jazzy orange finish, and he made a luxurious appearance on Mumbai streets when he took the vehicle for a drive.
But, that's not all. The Urus did not even get any rust, and Singh made yet another purchase of a premium SUV of the Mercedes Maybach GLS 600. There are 50 registered units of this car in India, and one of them is indeed registered in Mumbai. So, not only Singh but a lot of B-town celebrities purchased this car this year.
Arjun Kapoor
Arjun Kapoor adds Mercedes-Maybach GLS 600 SUV to his collection!
👉In case, you want to know about it
4.0-litre V8 turbo petrol engine
550 bhp & 730 Nm
48-Volt hybrid system for an additional 21 bhp & instantaneous torque of up to 250 Nm
9-speed AT gearbox
0-100 km/h in 4.9 s pic.twitter.com/qeY8akZrFu

— Times Drive (@TNTimesDrive) September 9, 2021
Apart from acting, Arjun Kapoor is also known for his love for SUVs in Bollywood. He also bought the Mercedes Maybach GLS 600 4 Matic with 2.43 crore making it one of the most expensive SUVs in the world. It looks like he also followed the tracks of his best friend Ranveer Singh and made this purchase.
But, he also bought a Land Rover Defender in April. The paparazzi spotted him with this gigantic vehicle, and that's when we knew how much he loved the big wheels. Recently, on his 32nd birthday, the actor also bought a Maserati Levante for himself.
Kriti Sanon
Krits with her new Mercedes-Benz Maybach GLS 600.
So so happy and proud of you Krits you deserve all the happiness of this world.

And now I'm sure that day isn't too far when you're going to gift geeta mam her dream home with a garden 😋 pic.twitter.com/I2tS6HNmDb

— Kriti Sanon FanClub 💕 (@KritiXbae) September 11, 2021
A few days after Arjun Kapoor buys the Mercedes Maybach, the 'Raabta' actor Kriti Sanon makes the same purchase. The vehicle is undoubtedly grand and luxurious from all sides, and especially with its LED headlamps, it makes even more of an elegant appearance. 
So, when Kriti bought the car and decorated it with garlands as the initiation ceremony, the photos took no time to go viral on social media. She even drove the car to the studios of Maddock Films, and the paps did not fail to notice it.
Sonu Sood
Besides his acting career, Sonu Sood is also famous for his social works, especially during the pandemic. But, the star gifted his son, Aryaan, the Mercedes Maybach GLS 600. We saw the star leaving his home with his two sons in this black SUV, but we are unsure if he bought the car for his family or himself.
Ayushmann Khurrana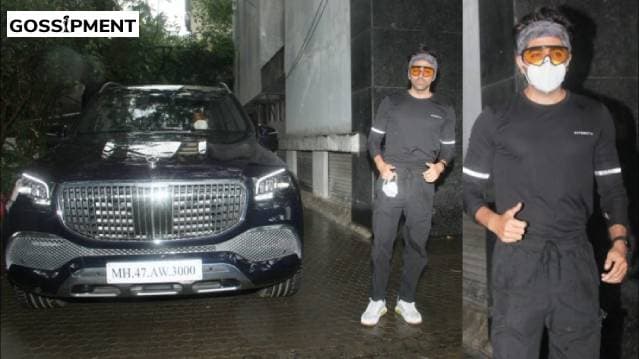 Ayushmann Khurrana also bought the same car in July after Ranveer Singh made the purchase. So, it seems our Bajirao managed to influence a lot of celebrities with his choice of vehicle. But, like many other celebrities on this list, Ayushmann also has a BMW 5 Series, Audi A6 saloon, Mercedes Benz S class in his garage.
What We Think
The features of the new Mercedes Maybach are definitely world-class. The panoramic sunroof, wide array of lighting options, dual-screen display, and ventilated massage seats-everything comes with the car. So, we can understand why our Bollywood celebrities are purchasing it one by one, and we hope to catch more glimpses of them in this monstrous ride. 
Read Also: