BTS Will Serve Military, Jin Being The First; Band To Reunite In 2025
Celebrities News●0 min read●
South Korean boyband BTS and their agency announced that the members would move ahead with their military service enlistment. Jin, the eldest in the band, will be the first to go off his military service. After that, SUGA, J-Hope, RM, Jimin, V, and Jungkook will follow. The members are to reunite again in the year 2025.
BTS military service has been one of the most searched phrases in the last two years. This is mainly because military service in Korea is a mandatory act, and even celebrities are not exempted from this rule.
There has been a constant frenzy about the mandatory military service of the band. However, the agency of the band, BigHit Music, stated, "Group member Jin will initiate the process as soon as his schedule for his solo release is concluded at the end of October."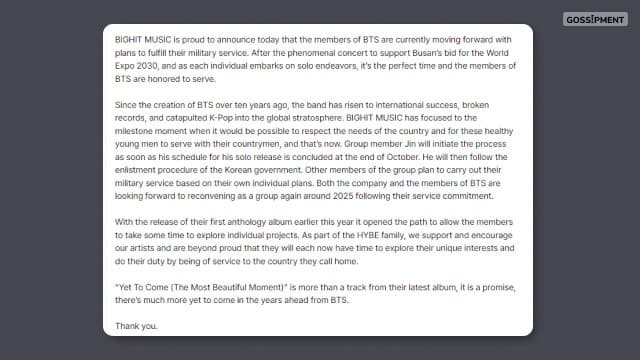 In South Korea, all able-bodied men are supposed to serve in the military when they are between the age of 18 and 28. After that, they are supposed to serve in the military for nearly two years. Even though this service is mandatory, there have been cases of exemptions earlier. Lawmakers had held polls for BTS to be exempted from the service.
The Bangtan boys have raised almost four billion dollars every year for the economy of South Korea. Government officials have taken the fact into account that BTS not being on the global scene for a few years might affect the economy of the country.
When BTS announced their temporary hiatus in June, many fans in the ARMY (their fanbase) thought that this might be because of their military service. However, BTS recently held their concert in Busan, South Korea, to support the city's bid for World Expo 2030.
The announcement came right after their successful concert. And immediately after the announcement went viral, the ARMY started trending the phrase "Trust BTS."
Their military enlistment announcement is very reminiscent of the ending of their popular song, MIC Drop. When SUGA drops the mic at the end of the song, and the lights fade, the fans cheer on as they know the show is not yet over. Their boys will come back for more.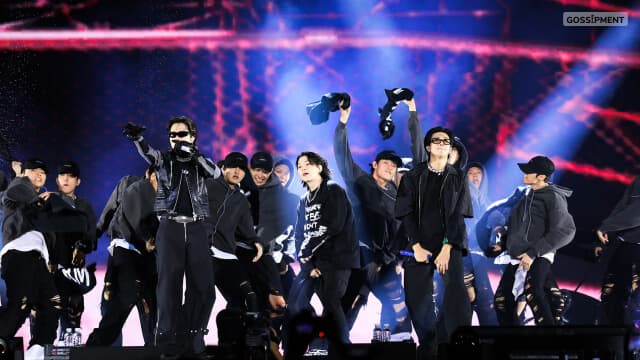 The CEO of HYBE Park Jiwon, wrote, "In the short term, individual activities for several of the members are planned into the first half of 2023, and we have secured content in advance, which will enable BTS to continue their engagement with fans for the foreseeable future."
More Resources: