Great news for Blue Beetle and Young Justice Fans! The first look for Blue Beetle movie costume has leaked, and the fans are loving it. The first Latino DC superhero movie developed by Warner Bros will stream on HBO max in August next year. 
Angel Manuel Soto takes the helm as the director of the movie, while we have the Cobra Kai star Xolo Maridueña starring as our very own Jamie Reyes. 
This is not the first time we got to see Blue Beetle in live-action – there was another iteration of the character before in CW's Smallville season 10. Most fans have also seen Blue Beetle in DC's Young Justice animated show. 
A few hours ago, early set photos of the Blue Beetle costume have been leaked on social media by @_MarvelMania_. The costume looks very comic accurate, and the fans are going crazy over it on social media. 
Famous costume designer Mayes C. Rubeo, who also designed costumes for Marvel's Wanda Vision and the upcoming Thor Love & Thunder, has designed the Blue Beetle costume. 
Here, You Can Take A Peek At The Costume –
Our first look at @Xolo_Mariduena as #BlueBeetle! pic.twitter.com/pfl9wLOz8m

— RJ (@_MarvelMania_) May 25, 2022
Jamie Reyes, a young and vibrant teenager, living in El Paso, Texas, gets superpowers from an ancient Egyptian scarab that fuses with him. What happens next is history to most of the DC fans. Once this comes out, this will be the first-ever Latino superhero movie we see on the big screen.
We don't get to see stars react to leaked set photos, and that's exactly what happened with blue beetles. Right after the fans stormed the internet, appreciating the leaked photos of the costume –  Xolo Maridueña took to his Instagram, saying thanks to the fans for the support.  
Check Out Mariduena's Post Below To –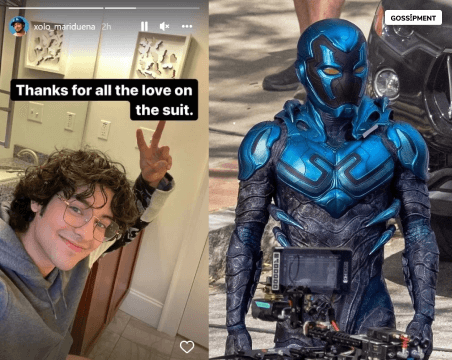 Since the release of the first concept art of the costume in DC Fandom 2021, the fans have been super excited. Earlier, the movie was planned for an HBO max release, but a theatrical release is also on the plan by Warner Bros. Entertainment. Inc. The movie has numerous fans waiting, but we have to wait until August 2023 to see it in theatres. 
Must Read…
Alia Bhatt And Shah Rukh Khan's "Darlings" To Premier On Netflix This Year