Derek Hough And Hayley Erbert Married In 'Incredibly Romantic' Fairytale Wedding
Celebrities News●0 min read●
Derek Hough and Hayley Erbert are officially married.
The duo married in a romantic ceremony on Saturday. The marriage held in a redwood forest in Monterey County, California.
The pair shared exclusive photos and information with People. "When we were thinking about location we asked ourselves, 'What's important to us?' Nature was the first thing," Hough explained.
"We want to be around trees and plants and Northern California kind of spoke out to us. We just want people to experience this place that we love, this nature, but also, it just feels incredibly romantic," the newly-wed bride continued.
Erbert chose to wear a stunning custom satin gown designed by Georgina Chapman from Marchesa. She styled it with a matching veil and jewelry by Ring Concierge.
Erbert walked down the aisle to a special rendition of Richard Walters' "Unconditional," "It's all very just classic, timeless."
Hough looked dapper in a Tom Ford suit, which he later switched for a Brooks Brothers ensemble for the reception.
The "Dancing With the Stars" judge gushed while speaking of tying the knot, "It's so interesting what a small sort of piece of metal can do to your whole persona and your whole outlook on everything, where all of a sudden it's sort of like, 'Oh, I have this promise that I carry with me all the time.'"
"And to want to be a man to live up to that promise daily for that person and for yourself and for others, it's a powerful thing. It's a beautiful thing. So for me, I'm excited to continue to aspire to be that man each and every day for her, for our animals and for our future family," Hough explained.
A Peek Into Their Fairytale Wedding
Hough described their wedding location as "one of the most breathtaking places." Erbert, too, commented, "We're in a redwood forest, but we got married right in front of this mother tree that's surrounded by all these smaller trees. They drop all the seeds, and it plants kind of like an army of children to protect the mother. The symbolism of it was beautiful. We're here, planting our seeds to grow our family."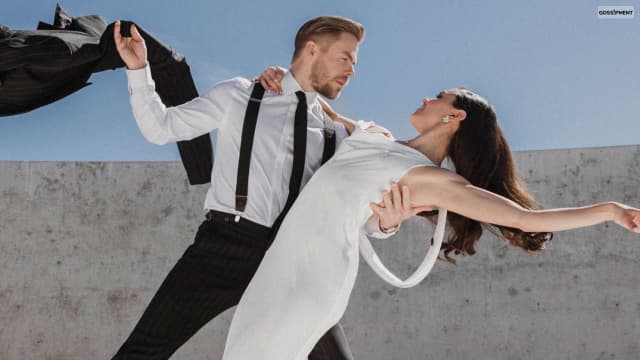 The couple shared their honeymoon plans in Italy, "We've never been. I mean, I've been for a competition, but that was it. We've never experienced it properly. So it's really great because it's a place that we're going to be able to experience together for the first time. And we're hitting everywhere from Lake Como, Positano, Amalfi Coast, Rome, Tuscany, Florence. We're hitting it all."
The wedding was a star-studded affair too. It was attended by 106 guests, including Julianne Hough, Jenna Johnson, Shawn Johnson, Nina Dobrev, Shaun White, Robert and Kym Herjavec, Frieda Pinto, Amy Purdy, Maria Menounos, and Alfonso Ribeiro.
Have you read these?
■ Kris Jenner, Kim Kardashian Hang Out With Meghan Markle's Mom At La Gala
■ Irina Shayk And Ex Bradley Cooper Ditch Their Tops For Vacation Amid Tom Brady Romance