The trailer for Kartik Aaryan's highly anticipated flick Dhamaka is now out.  The trailer is fascinating since it depicts a high level of drama and much more. As soon as the trailer became available on the internet, people predicted that the film would be a smash hit. Netizens are complimenting Kartik's performance, calling it a complete surprise.
About The Movie
In the forthcoming film Dhamaka, Kartik Aaryan portrays a frustrated former anchor.  He plays the part of Arjun Pathak. This film breaks his traditional romantic roles, which the star has been essaying for so long. The movie will be shown on Netflix, and its first trailer is out now.
The brief trailer depicts Kartik at a newsroom, visibly anxious over a piece of news he must give. He yells, demands the cameras to turn off, and violently vomits on the table before regaining his calm and returning to work with confidence. Gully Boy's Amruta Subhash plays his employer, who encourages him to keep working. As a newscaster, he is live-blogging an incident involving a bomb detonation.
Keep calm and put your Bharosa in Arjun Pathak. #Dhamaka is loading 💥
Arriving on Netflix – 19th November. #DhamakaOnNetflix @TheAaryanKartik @RamKMadhvani @amita_madhvani @ronniescrewvala @mrunal0801 @AmrutaSubhash @StrictlyVikas @vishfulfilled @PuneetVuneet #ManuAnand pic.twitter.com/EKHvVCANxI

— Netflix India (@NetflixIndia) October 19, 2021
Mrunal Thakur, Vikas Kumar, and Vishwajeet Pradhan all play essential parts in this movie besides Kartik Aaryan. It is directed by Ram Madhvani and produced by RSVP Movies and Ram Madhvani Films. Dhamaka will be available on Netflix in 190 countries.
What Does Kartik Think Of The Movie?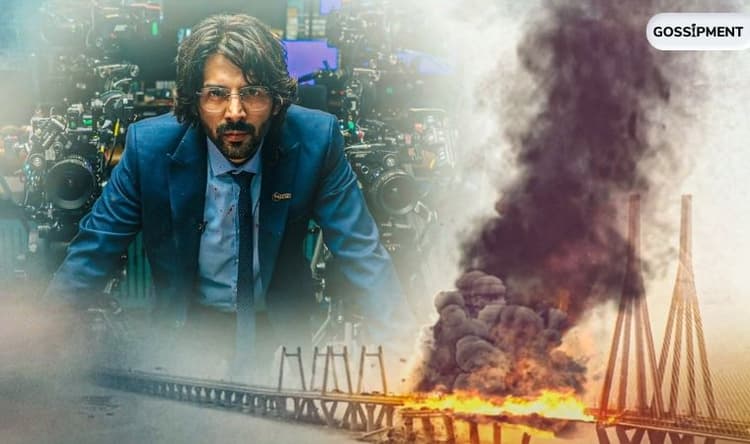 Kartik says that as an actor, Dhamaka has been a really thrilling and enriching experience for him. The 'Pyaar ka Punchnama' star is delighted to be working with a trailblazer like Ram Madhvani. He also says thanks to him for getting this opportunity that helped him express a new side of his personality. Regarding comments on the Netflix release, Kartik says he is happy because the movie will have a broader audience reach in the process.
Ram Madhvani, who has directed some famous movies like 'Neerja' and 'Aarya,' is also happy to collaborate with Kartik in this film. He says that Kartik showed his total commitment every day on the set, which helped him bring out a new personality of this character. He sang praises of Kartik's enthusiasm, passion, curiosity, and acting skill and says he would love to collaborate with him in the future.
Fans' Reactions On Kartik's Performance
Twitter users are storming the social media praising how amazingly Kartik performed in the movie. Although the film is not released yet, fans are not shying away from congratulating the star on this excellent performance.
One user wrote that it was a complete surprise to see Kartik playing such an intense and layering character for the first time. Another user congratulates Ram Madhvani for bringing out such a fantastic performance from Kartik. People all over the nation are constantly commenting on all sorts of positive things about Kartik's performance.
Closing Thoughts
As the trailer of Dhamaka is out, we can't wait to hear the movie's release date now, right? But, unfortunately, the filmmakers have not dropped any hint yet of when the movie will be released. However, seeing Kartik's commendable performance in the trailer, we are optimistic that the film will be a super hit.
Read Also: