Jamie Foxx And Alyce Huckstepp Were Spotted In Cabo, Mexico, Enjoying Their Vacation
Celebrities News●0 min read●
Jamie Fox is finally getting strong on his health as well as his love life after he suffered from a mysterious health scare. Page Six got some photos exclusively that showed the Oscer-winning actor arriving at Cabo San Lucas, along with his girlfriend Alyce Huckstepp, for the Labor Day weekend.
55-year-old Foxx wore a graphic-printed black jacket with matching joggers. He accessorized himself with sneakers, sunglasses, and a wide-brimmed hat. Alyce also twinned him, wearing an all-black outfit that she paired with white sneakers while they held hands as they entered the black SUV.
After they checked in for their stay, they dropped a few layers and went to the beach for soaking under the sun. Alyce changed her outfit and wore black shorts with a white tank top, while Foxx wore the same previous joggers and a simple white tee.
Ray once took out his binoculars to take a good look at the oceanfront views. It is not clear to the media and their fans how long they have been seeing each other, but back in May 2022, they were photographed in a lovestruck moment on a trip to Cannes.
The couple got cozy with one another while they were on a luxury yacht on the French Riviera, and the media spotted them while they were riding a jet ski together. It is months after the "medical complication," which is still a mystery to us, Foxx is traveling with his girlfriend.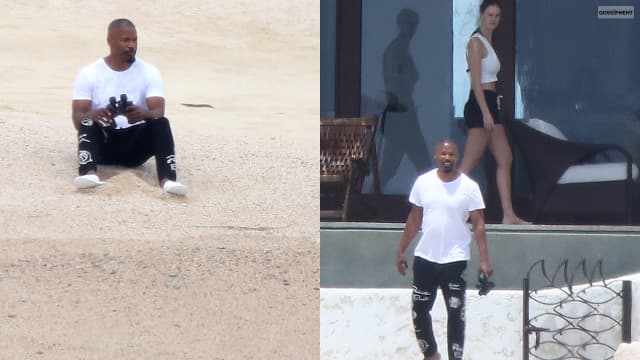 Going strong and steady
Corinne Foxx shared the news of her father's illness through an Instagram post, which was deleted later, saying that her father experienced some medical complications. She said, "Luckily, due to quick action and great care, he is already on his way to recovery."
Though he has not shared the details of precisely what happened to him, he gave a positive update to his fans last month. He wrote in an Instagram post, "You're lookin at a man who is thankful. Finally startin to feel like myself… it's been an unexpected dark journey… but I can see the light."He made his public appearance in July after his illness and appeared healthy and happy at various events, including the Miami Formula 1 Grand Prix, where he partied with LeBron James and Meek Mill.
Trending on Gossipment:
👉 Sarah Jessica Parker And Her Daughters Hit The Beach For Labor Day Weekend
👉 Joe Jonas Puts On His Wedding Band During Tour Amid Retaining a Divorce Lawyer