Kangana Ranaut reacts to Ryan Reynolds' 'Hollywood mimicking Bollywood' statement: 'And trying to steal our screens….'
Celebrities , Celebrities News●0 min read●
Kangana Ranaut responded to Ryan Reynolds' recent statement of Hollywood's imitating Bollywood. Ryan Reynolds promoted his upcoming film 'Free Guy' in a YouTube video earlier this week. He made a hilarious appeal to his Indian fans that this movie resembles Bollywood from many angles. In response to Ryan Reynolds' statement, Kangana Ranaut criticized the American film business for snatching theatre screens in India in her Instagram post.
What Was Reynold's Statement?
Ryan Reynold was promoting his new film 'Free Guy' on a YouTube Video. While promoting, he said that Hollywood also mimics Bollywood because much of this film's plot is like Bollywood films. He drew a stark comparison between his character in the movie as Shawn and many Bollywood heroes where the hero chases a girl way out of his league. 
He also said that the movie has a few intense action scenes and a few dancing sequences too. Now, this is something we know that all Bollywood movies have. However, Ryan said that people danced on the road in this new film and said Hollywood has no shame in copying such scenes straight from Bollywood films. 
What Did Kangana Say In Response?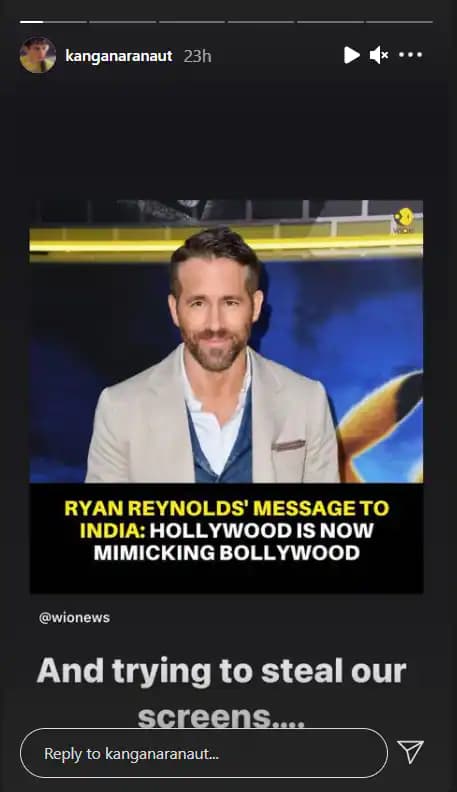 While we may think that Ryan made a hilarious joke in this video, the rebellious actor of Bollywood, Kangana Ranaut, sure did not think so. She shared a screenshot of Ryan's video on her Instagram and captioned it as 'And trying to steal our screens….' 
Kangana Ranaut has explicitly demonstrated her annoyance over Hollywood films because they surpass the audience's excitement for the Indian movies. She firmly stated that Bollywood must discourage American and English movies because they are sweeping over their films. According to PTI, the 'Queen' actress also said that they must act as one nation. Rather than dividing the country into many parts, they should give their films a foremost chance in theatres. 
The 'Simran' actress further mentioned how Hollywood had destroyed the German, French, and Italian film industry with a monopolistic attitude. They are trying to do the same to Indian cinema. She said that rather than giving a chance to a dubbed version of 'Jungle Book,' of 'Lion King', they should play a dubbed version of a Malayalam film. She wants to make India more self-dependent, and we understand her concerns.
Closing Thoughts
It is no secret that Hollywood has a substantial market in India. So far, Avengers: Endgame has collected 52 Crores from Indian theatres, which is one of the highest box office collections. So, we understand why Kangana is saying that we should give our own films a chance first. We hope the film authority people listen to her concerns and take the right decision ahead.
Read Also:
We Have No Shame: Ryan Reynolds On Hollywood Mimicking Bollywood