After Hrithik Roshan's post for Aryan Khan, Kangana Ranaut Takes A Dig At Bollywood: All Mafia Pappu Coming To His Defense
Bollywood , Celebrities News●0 min read●
Bollywood prince Aryan Khan has been in the headlines recently because the Narcotics Control Bureau (NCB) detained him during a narcotics search in a rave party. Several celebrities have shown their support for Aryan on social media. Hrithik Roshan has also come out in his defense and published an emotional letter in which he described life as a "strange ride."
What Message Does Hrithik Roshan Want To Convey Through His Letter?
Hrithik Roshan wrote an open letter to Aryan Khan to show emotional support to King Khan's son during this challenging time. He calls life a 'strange ride' because life throws curve balls at us every time so that we learn to toughen up. He also said that it is normal for Aryan to feel confused, sad, and even angry since he is suffering now, but it will all be worth it once the struggle gets over.
Hrithik's message also says that God throws the toughest balls to those who can tolerate it. He further mentions that as he has known Aryan from childhood, he knows that he will be able to overcome this scenario in no time. Therefore, Hrithik asks Aryan to keep calm because that is what tough situations demand from us.
Kangana Takes A Dig At Hrithik
However, the rebellious actress of B-town, Kangana Ranaut, is not here to just sit down and watch the Bollywood heroes uniting in Aryan's rescue. Instead, the 'Thalaivi' actress called the Bollywood heroes 'Mafia Pappus.'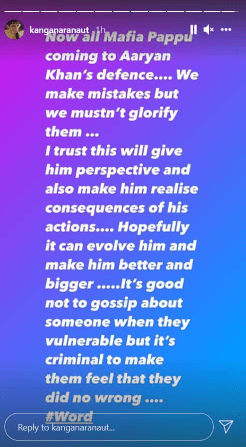 Kangana says that everyone makes mistakes, but nobody should ever try to glorify those mistakes. She means that Hrithik's letter proves that Aryan did not make any mistake, but has just fallen victim to the circumstance, which is not the case. 
The 'Queen' actress also says that she feels this incident will change Aryan's perspective on life and make him a better human being. She supports the fact that nobody is gossiping about King Khan's son because he is down now, but making someone feel they did no wrong is something Kangana absolutely can't make her peace with. 
Closing Thoughts
Not only Hrithik, but according to our sources, many other celebs of B-town are openly supporting Aryan. Celebrities like Hansal Mehta, Deepika Padukone, Anushka Sharma, Sunil Shetty, Rani Mukherjee, Susan Khan, Salman Khan, Pooja Bhatt-everyone seems to be supporting Sharukh Khan and Gauri Khan on physical and virtual platforms. We hope the law takes the right decision, and we will inform you as soon as we get more updates on the drug raid incident. 
Read Also: