Mohammed Yousuf Khan, well known by his stage name Dilip Kumar, died on July 7th after a protracted illness. He was 98 years old when he died. After complaining of 'breathlessness,' Dilip Kumar was taken to a hospital last month to treat concerns connected to old age. Dilip Kumar, the Bollywood Thespian, died on July 7th at the Hinduja Hospital in Mumbai at the age of ninety-eight. The news comes following Dilip Sahab's recent hospitalization.
The report was confirmed by Dr. Jalil Parkar, who was treating him. His funeral is expected to be held later in the day at the Juhu Qabrastan. Dilip Kumar died at the Khar Hinduja Hospital in Mumbai at 7.30 a.m. His wife, Saira Banu, a famous actress herself, survives him.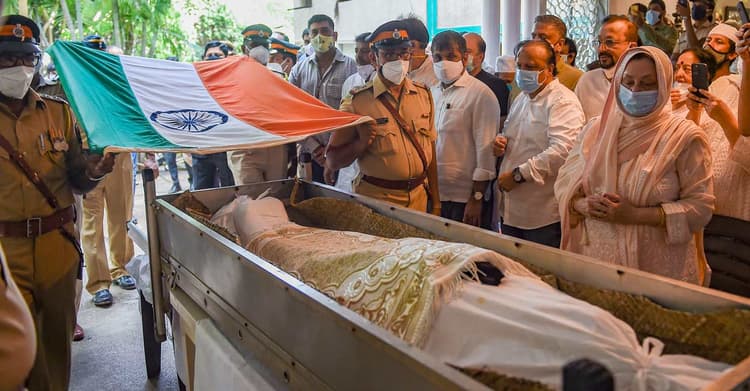 Faisal Farooqui, a friend of Dilip Kumar, posted from the actor's official Twitter account to inform about the terrible news. "I declare the death of our dear Dilip Saahib, who passed away a few moments ago, with a heavy heart. We are from God and return to Him – Faisal Farooqui."
About The Legendary Actor Dilip Kumar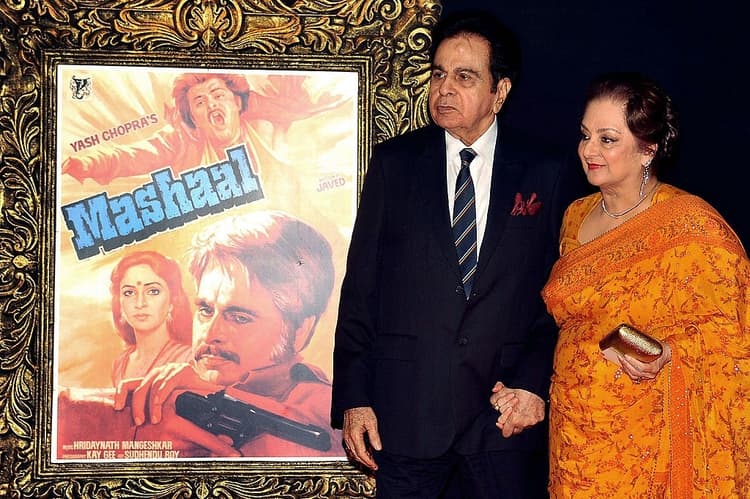 The legendary actor's career and filmography spanned six decades in Bollywood. He was responsible for some of the most lasting masterpieces in the industry. He was born in Peshawar's Qissa Khwani Bazaar and made his cinematic debut in Jwar Bhata (1944). However, Jugnu, released in 1947, was his first box office success.
He has been awarded the Padma Vibhushan, India's second-highest civilian medal. Also awarded as the Nishan-e-Imtiaz, one of Pakistan's highest civil awards. Kumar received the 'Best Actor Filmfare Award seven times. Moreover, he was also awarded the renowned Dadasaheb Phalke Award in 1994. He is fluent in Punjabi, Urdu, Hindi, Marathi, and English, among other languages.
Dilip Kumar is regarded as one of the finest performers in Hindi film history. He also holds the Guinness World Record for the most accolades won by an Indian actor. Throughout his career, he has won several honors. This includes eight Filmfare Awards for Best Actor and won Filmfare Lifetime Achievement Award.  
Acting Career Of Dilip Kumar 
Dilip Kumar made his acting debut in 1944 with Jwar Bhata. However, it was with Jugnu three years later that he became famous. He followed it up with hits like Shaheed and Mela and with Mehboob Khan's Andaz. There he co-starred with Raj Kapoor and Nargis and cemented his reputation as a romantic actor. Over the course of a five-decade career, the Indian cinema's Thespian has appeared in over 65 films.
Due to his depiction of a shattered lover in numerous films throughout the 1950s, notably the Bimal Roy classic Devdas in 1955, he is also known as the Tragedy King. Among other legendary performances, Dilip Kumar's most enduring is his historical depiction of Prince Salim in Mughal-E-Azam, which was hailed as the greatest love story of all time when it was released. 
An epic love drama of K Asif took over seven years to make. It was also the highest-accounting Indian film of the 1960s. It contained the record for over 15 years until the release of Sholay. Dilip Kumar's acting abilities have influenced a generation of performers. These included such as the likes of Shah Rukh Khan and Amitabh Bachchan. Dilip Kumar's last on-screen performance was in Umesh Mehra's 1998 film Qila, in which he played a double part. 
Before Qila, there was Subhash Ghai's Saudagar (1990), which was a box office smash. Following Qila, there have been numerous attempts to reintroduce Dilip Kumar to the film. This included Subhash Ghai's Mother Land, which co-stars Shah Rukh Khan and Amitabh Bachchan, and JP Dutta's Aakhri Mughal. In the 1990s, he was also set to make his directorial debut with Kalinga. However, it was shelved after over 70% of the film had been shot.
Health Condition Of The Actor
As a "precautionary step," the legendary actor was taken to the ICU (intensive care unit)  of a non-COVID-19 hospital in Mumbai. It is located in a suburban district. He was admitted on June 29. This happened ten days after he was released from the hospital. On July 5, the family provided an update on Dilip Kumar's condition, tweeting that he was improving. 
According to the tweet," Dilip Sahib's health is improving, and we are grateful for God's tremendous kindness. We are still in the hospital, and we ask for your prayers and duas that he will be healthy and released soon, insha'Allah, was conveyed by Saira Banu Khan, who is also an actress and the wife of Dilip Kumar.   
On June 6, he was taken to the same hospital for bouts of breathlessness. According to press sources, he was detected with a disease named bilateral pleural effusion. This is an accumulation of excess fluid between the layers of the pleura exterior of the lungs. He had a successful pleural aspiration surgery.
Final Rites
The Maharashtra Chief Minister said on Twitter that Dilip Kumar's last rites would be held with full state honors. "Chief Minister Uddhav Balasaheb Thackeray has directed that renowned actor Dilip Kumar's funeral be held in a state funeral," Uddhav Thackeray tweeted in Marathi. 
At 5 p.m. today, Dilip Kumar will be put to rest at Juhu Qabarstan in Mumbai's Santacruz. On social media, members of the Indian film industry and other notable figures paid their respects.
Also Read: