Actor and former Miss World Priyanka Chopra Jonas has been called "someone Chopra," and "the Chopra wife" by comedian Rosie O'Donnell. It was a public apology where Rosie made a false assumption about her name. 
Following this, on Wednesday, Chopra Jonas responded on Instagram to O'Donnell. In her beginning statement, the ex-talk show host failed to recognize the leading Bollywood and Hollywood performer's first name. This led to a sharp retaliation.
What Did Priyanka Chopra Wrote On Her Story?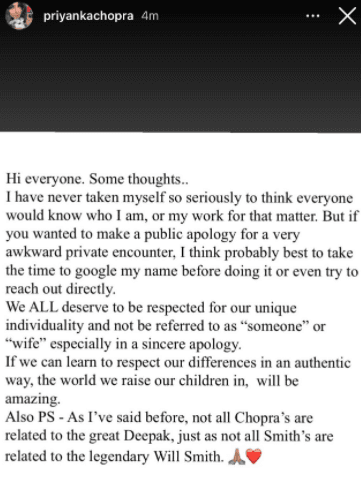 " Hi everyone. Some Thoughts. I have never taken myself so seriously to think everyone would know who I am, or my work for that matter. But if you wanted to make a public apology for a very awkward private encounter, I think probably best to take the time to google my name before doing it or even try to reach out directly," the Tarzan actress wrote on her Instagram story. 
Mrs. Jonas'a reciprocated after O'Donnell reached out to her and her and her spouse, Nick Jonas, at Nobu – a high-end sushi restaurant located in Malibu. She told The Kingdom alum and the Baywatch actress that she knew her father. The former View panelist said in the video, "[I said,] 'Hi, I know your dad.' She goes, 'You do? Who's my dad?' And I go, 'Deepak. "She goes, 'No, and Chopra is a common name.'"
In the Instagram message, the White Tiger Star also added, "We ALL deserve to be respected for our unique individuality and not be referred to as 'someone' or wife, especially in a sincere apology. If we can learn to respect our differences in an authentic way, the world we raise our children in will be amazing. Also PS — as I've said before, not all Chopra's are related to the great Deepak, just as not all Smith's are related to the legendary Will Smith."
What Do We Think About This?
The husband and love of life of the Matrix Resurrections' actress, Nick Jonas, reposted his wife's post on his Instagram and wrote, "Well said, my love." Definitely, we think that the Sleepless in Seattle star needed to be more careful regarding her word selection and extent of knowledge about "The Priyanka Chopra Jonas."  
Must Read:
Salman Khan Confirmed Da-Bangg Tour At 2020 Expo 2020 at Dubai. Pooja Hedge, Disha Patani, Ayush Sharma, Sonakshi Sinha, Guru Randhawa, And Many Other Joins