'The Drew Barrymore Show' Is Pausing Their Production Because Of The Negative Responses
Celebrities News●0 min read●
Drew Barrymore announced that The Drew Barrymore Show is not coming on air until the Hollywood strike is over. The host had a change of heart from his previous decision to resume the production amidst the strikes by the SAG-AFTRA actors' union and Writers Guide of America (WAG).
The actress posted on Instagram that she has decided to put a "pause" on the premier of the talk show. In the statement, she wrote, "I have listened to everyone, and I am making the decision to pause the show's premiere until the strike is over."
She further added, "I have no words to express my deepest apologies to anyone I have hurt and, of course, to our incredible team who works on the show and has made it what it is today. We really tried to find our way forward. And I truly hope for a resolution for the entire industry very soon."
The spokesperson from CNS Media Ventures gave a statement saying, "We support Drew's decision to pause the show's return and understand how complex and difficult this process has been for her."
Barrymore got negative feedback for bringing the show back, which she has been hosting since 2020,  in the middle of the strike. Initially, she chose to defend her decision, but later on, she changed her mind.
She wrote, "I made a choice to walk away from the MTV Film and Television Awards because I was the host and it had a direct conflict with what the strike was dealing with, which was studios, streamers, film, and television. I own this choice. We are in compliance with not discussing or promoting film and television that is struck of any kind."
The Writers Guide Of America, East gave a response on X saying, "The @DrewBarrymoreTV Show is a WGA covered, struck show that is planning to return without its writers," they wrote. "The Guild has, and will continue to, picket struck shows that are in production during the strike. Any writing on 'The Drew Barrymore Show' is in violation of WGA strike rules."
Barrymore received backlash for her initial decision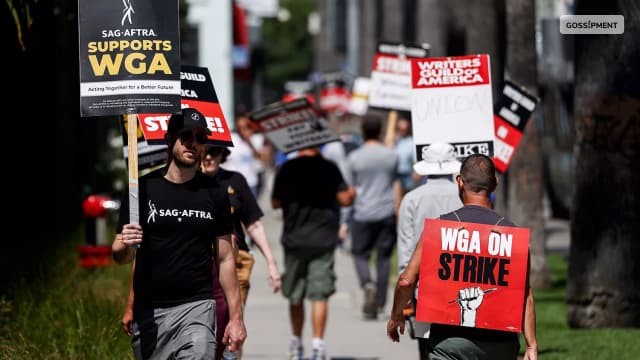 Barrymore shared a video on Instagram this Friday, which she deleted shortly after saying that she received the negative backlashes for her previous decision of resuming the show. She said that the situation was " so complex," but her "intentions have never been in a place to upset or hurt anyone."
She said, "I believe there's nothing I can do or say in this moment to make it OK," she said in the since-deleted video. "I wanted to own a decision so that it wasn't a PR, protected situation. And I would just take full responsibility for my actions. I know there's just nothing I can do that will make this OK for those that is not OK with. I fully accept that. I fully understand that."
She added, "I've been through so many ups and downs in my life and this is one of them. I deeply apologize to [the] writers. I deeply apologize to unions. I deeply apologize. I don't exactly know what to say because sometimes when things are so tough, it's hard to make decisions from that place."
You May Also Like:
👉 County Star Maren Morris Calls Modern Day County Music, 'It's A Toxic Wasteland!'
👉 Cher And Alexander Hold Hands, In The Middle Of The Rekindled Romance Rumor