Tom Sandoval Brought Tii Back To The House He Shares With Ariana Madix
Celebrities News●0 min read●
The new gal pal of Tom Sandoval seems to be more than his 'just friend' after all. The defamed "Vanderpump rules" star was photographed with Tii, the vocalist, while he brought her back to Valley Village, California, his home, which he still shares with Ariana Madix, his ex-girlfriend, on whom he cheated with Raquel Leviss.
Page Six obtained a few pictures where the musician and the reality star were photographed as they headed to LA's Ei Ray Theatre, where Tom Sandoval and The Most Extras performed live. 100 percent of the show proceeds will be donated to the Hawaii Community Foundation to help those people who have lost everything in the devastating wildfire in Maui.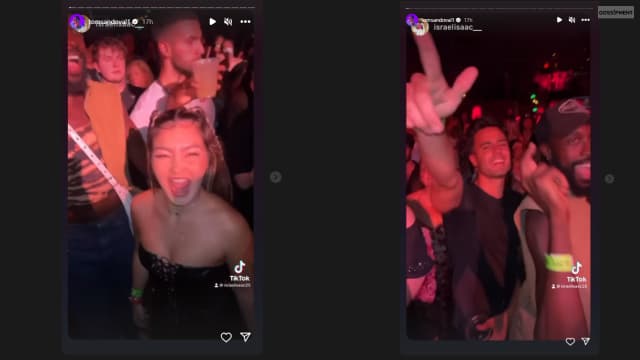 Tii braided her hair, wore a little black dress, posted the concert on her Instagram story, and posted her own videos dancing and singing to the music. She also zoomed in on sweaty and shirtless Sandoval in her post.
The couple spent some time together at a bar after the show in West Hollywood before they got up in Sandocal's Rolls-Royce. The chivalrous Sandoval did not forget to open the door for his brunette lady.
Till also shared a selfie-style video inside the luxury car with its signature star-lit roof. They got back to his house after midnight and took a plane Thursday morning after only two hours of sleep. The TomTom owner and his mystery woman made it to the headlines at the beginning of the month after they were caught leaving West Hollywood's Fleur room by shutterbugs.
They tried to keep a low profile as they waited at the valet for a few minutes before getting into the car. According to a Page Six source, "Tom and Tii had a lot of fun during their night out, and there's definitely a connection. He thought she was a really cool girl, and they enjoyed getting to know each other."
But when the paparazzi asked Sandoval about their relationship, he said that she was just his friend. They have not yet responded to the questions Page Six asked in relation to their recent meetings and hangouts.
Trending on Gossipment:
■ Lindsay Hubbard And Carl Radke Broke Up And Called Off Their Fall Wedding
■ Kevin Costner Spotted At Court Hearing To Address Ex-Christine's Plea For Child Support