Top 20 Pop Singers Of All Time – 2021 Updates
Pop singers are evergreen singers. Pop is one of the most versatile genres in music. The term pop comes from popular. It was invented in the United States in 1950, and since then, we have seen a lot of pop artists come and go. 
Some pop artists were able to make a mark in the industry, whereas some were not as successful. As you are reading this article, chances are you love pop music and take a keen interest in knowing about pop singers and adding them to your Spotify music. 
In this article, I am going to tell you the names of the top 20 pop singers of all time. Some of these artists are new, while some of them are a little old, but they are still very prominent nonetheless. 
So without wasting any further time, let us take a look at the list of the names of the top pop artists of all time. 
Top 20 Pop Singers Of All Time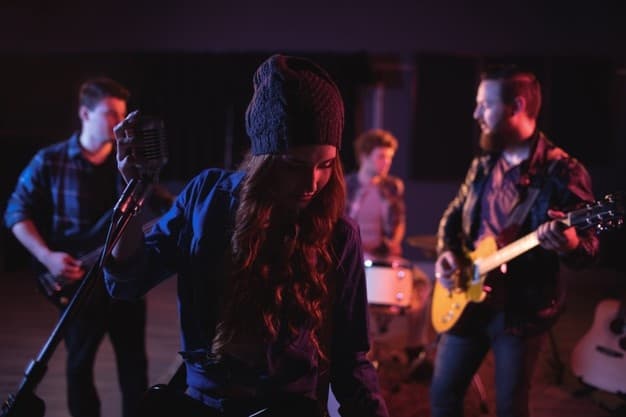 These are the top 20 singers of all time. Some of the names in this list might surprise you, so keep reading this list till the end. 
1. Michael Jackson
Michael Jackson was one of the most renowned pop singers of all time. People still dance to the tunes of 'Billie Jean,' 'Beat It' and 'Thriller' to this day. He was born in an African-American Household in the year of 1958 and died on 
2. The Beatles
The Beatles is a band that changed the course of pop and rock forever. They were a British rock-pop group that produced famous hits like 'Yesterday.' 'Hey Jude,' 'Come Together' and many more. Paul McCartney and John Leon were members of The Beatles. They formed in 1957 disbanded in 1970.   
3. Elton John
Elton John is one of the best pop singers of all time. He has given several hits and is one of the best-selling artists of all time. He is famous for producing top hits from 1972 – 1986. Currently, Elton John is on tour for promoting his new album
4. Celine Dion
Celine Dion is a Canadian pop singer and is known for his unique voice all over the world. She is also popular for singing 'My heart will go on,' which was used as the score for the movie Titanic in 1997. She has produced many pop hits in English and French. 
5. Madonna
Often referred to as the 'Queen of Pop,' Madonna is one of the oldest players in the game. She began her career in 1979. The 62-year-old has bagged several awards, which include Grammy Awards. She has sold over 300 million albums worldwide.  
6. Frank Sinatra
Frank Sinatra is one of the most popular pop singers of all time. He was an Italian-American. He began his career in singing in 1935. His songs are still played on the radio. Even though he is one of the oldest on the list, he is not forgotten.  
7. Dua Lipa
Dua Lipa is a British pop artist. The 25-year-old came under the spotlight with her single 'New Rules' in 2015, and since then, she has been giving content hits. She started her career as a model but later switched to singing. She is currently one of the best-selling artists.
8. Taylor Swift
Taylor Swift is a 31-year-old American Singer. She is one of the youngest yet one of the most successful on this list. She started her career as a country singer but later switched to pop. Some of the famous singles are 'Love story,' 'You Belong With Me,' 'Shake It Off,' etc 
9. Enrique Iglesias
Enquire Iglesias is a Spanish pop sensation. The 45-year singer cum actor is known for his handsome looks and his unique singing style. He is a bilingual singer but has several hits in English as well, like "Hero', 'Do you know," and many others. 
10. Queen (Freddie Mercury)
Freddie Mercury was a British singer and entertainer. He was the lead singer of the band 'Queen.' His unique singing style made pop fans go bananas. Some of his pop hits include 'I want to break free. 'Under Pressure etc. He died at the age of 41 due to AIDs complications.   
11. Kylie Minogue
Kylie Minogue is the first Australian on this list. The 50-year-old Aussie is one of the best pop singers of all time. Throughout her career, she has bagged several awards for her singing style. Singles like 'Spinning Around,' 'Slow' are some of the fan favorites.  
12. Simon and Garfunkel
This duo is famous for producing 'Sound of Silence.' They took pop to a whole new level. They parted due to personal problems; otherwise, they could have produced more singles. They take a different approach in writing their songs, and that is what made them famous. 
13. Justin Beiber
Justin Beiber is a 26-year-old Canadian Singer. He came under the spotlight with his famous single called 'Baby.' He is one of the best-selling artists of all time. Some of his famous singles include 'Boyfriend,' 'Baby,' etc
14. Halsey
Halsey is probably the least successful in this list, But nonetheless, it is worth mentioning. She is only 26 years old and has made it big already. Some of her famous songs are 'Graveyard,' 'Be Kind, ' and 'Without Me.' She is also famous for her controversial relationship with G-Eazy 
15. The Weeknd
The Weeknd is one of the new Canadian players in the game of pop. His single 'Star Boy' took the pop charts by storm. It topped the Billboard charts for four consecutive weeks. He is one of the best-selling pop singers of the current generation. 
16. Ellie Goulding
Ellie Goulding is a British pop singer. Besides singing, she also has cameos in some movies. She is famous for her single, 'Burn' and 'Love me like you do,' which was also used in the movie Fifty Shades of Grey. 
17. Ariana Grande
Ariana Grande is a 27-year-old American singer; she is the half-sister of Frankie Grande. She is the most followed singer on Instagram. Ariana Grande is one of the best Hollywood singers in the world. Some of her famous singles include 'Love me Harder,' 'No Tears Left To Cry,' and 'Focus.'
18. Beyonce
Beyonce used to be a core member of Destiny's Child but later left the group to pursue a solo career in pop music. She is also the wife of the richest rapper of all Time Jay – Z. She has produced several hits like 'Drunk in Love' and 'Single Ladies.'
19. ABBA
ABBA was a Swedish pop group that was active between 1972 and 1982. They did a very good job even though English was not their native language. Some of their famous singles include 'I Have A Dream,' Knowing Me, Knowing You, etc.
20. Mabel
Mabel is a Spanish-born British singer. She is just 25 years old and already has many rewards and certifications to her name. Some of her famous singles include 'Boyfriend,' 'Mad Love,' etc. She is undoubtedly an emerging pop star. 
Final Thoughts
There you go, now you know the names of the top 20 pop singers of all time. I hope that you have found this article informative and entertaining. If you have some comments or feedback, you can post it in the comment section down below, we will try our best to answer each one of them. 
You May Also Like: