Barbie Goes To Party With A Staggering $182 Million, Oppenheimer Erupts Close Behind with $93.7 Million
Movie News●0 min read●
The global sensation of Barbie and Oppenheimer has gripped its audience like no other. Greta Gerwig's Barbie and Christopher Nolan's Oppenheimer were released over the weekend, having been the most talked about films that would be available for public viewing on the same day. Speculations followed as to which of the films would be prioritized by the audience.
Thanks to social media and memes, netizens jokingly created the idea of Barbenheimer. Cine goers proved to the world once again that nothing could stop them from enjoying a good movie, not even the date of release. The pink fantasy-comedy Barbie collected a jaw-dropping $182 million at the international box office, with a global total of $337 million. Whereas the Christopher Nolan R-rated feature drew a worldwide tally of $174 million.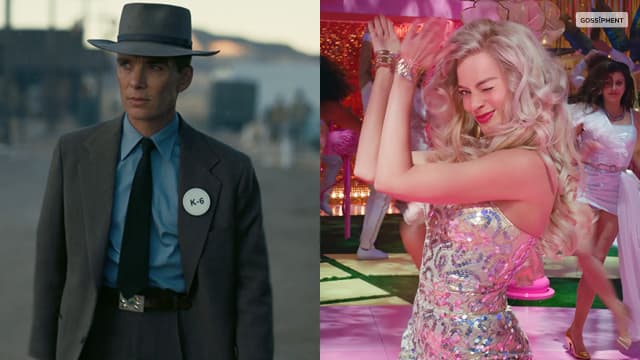 "The weekend is a reminder of the kind of cultural relevance movies can bring," David A. Gross, owner of Franchise Entertainment Research, a movie consulting firm, said on the two movies being a success simultaneously. "Many of the summer's high-profile sequels have stumbled, and the new stories have been subdued," he added.
"This was a phenomenal experience for people who love movies on the big screen," comments Michael O'Leary, President and CEO of the National Association of Theatre Owners, the industry's trade organization. "It was a truly historic weekend. People recognized that something special was happening and they wanted to be a part of it," he elaborates further.
"Barbie" towered over its domestic box office with $155 million, scoring the biggest opening weekend record of 2023 ahead of "The Super Mario Bros. Movie" ($146 million). The top markets, outside of North America, were the UK with $22.9 million, Mexico with $22.3 million, Brazil with $15.9 million, Australia with $14.6 million, Spain with $9.9 million, France with $9.8 million, and China with $8.2 million.
Oppenheimer added a whopping $80.5 million domestically, with no signs of lagging. It is a truly remarkable feat for a three-hour-long period drama that has little action and is packed with dialogue. It reinstates Nolan's reputation as a one-of-a-kind director who can attract movie buffs with his name alone.
Rich Gelfond, CEO of Imax, commented, saying, "We believe this is just the beginning of what 'Oppenheimer' can accomplish at the global box office."
Have you read these?
👉 Carin Glynn, The "Sixteen Candles" Star, Breathed Her Last On July 13
👉 Oppenheimer Earns 57 Crores In Opening Weekend In India: 7th Highest For Hollywood!