Bianca Censori, Photographed In A Completely Translucent Thong Bodysuit, Passionately Kissing Kyne West
Music News●0 min read●
Banca Censori, the wife of Kanye West, was caught in a steaming moment on their trip to Florance, Italy, doing a little PDA. They were seen sharing a passionate kiss in the streets of Italy in the series of images that were shared on Instagram Sunday.
She did not leave anything to the imagination and was seen with her fancy man in a completely translucent thong bodysuit with white pumps and sheer tights. She completed her bady ensemble that revealed her nipples alongside a nude headwrap over her pixie cut.
Meanwhile, the 46-year-old rapper-turned-fashion designer went barefoot in his sorted black blazer without a shirt and matching trousers with gold chain. These pictures were posted after they went barefoot for an outdoor dinner with their friends.
Censori turned heads there as well, as she wore a white low-rise floor-length skirt with a sheer nude bra that displayed her butt crack and nipples. They were also spotted on the streets of Florance barefoot, taking a stroll, and were photographed early this week.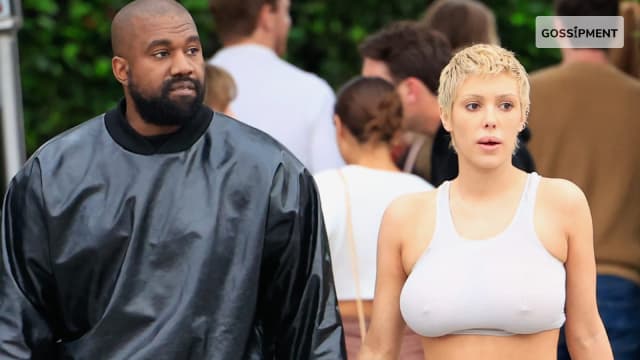 The 28-year-old architect was spotted wearing a black bikini top along with leggings when she stepped out san shoes for meting the Grammy winner. According to an eyewitness, who informed Page Six that her husband had a busy day in Florance.
He went to Prato East to visit a fabric factory and made a stop song with his friends at a Balenciaga store and was spotted in a gelato store later for a sweet treat. The hitmaker tried to stay under the radar as he draped a white towel over his head and enjoyed his double-scoop ice cream.Censori and West got married in January in a not-so-legally binding ceremony. This unexpected wedding happened two months after he settled his divorce from Kim Kardashian after being married for seven years.
Trending on Gossipment:
🖤 Mark Margolis, 'Better Call Saul' And 'Breaking Bad' Star Passes Away At 83
🖤 Lizzo Accused Of Sexual And Racial Harassment By Former Dancers In A Lawsuit
🖤 Sophia Bush And Grant Hughes Calls It Quits After Staying Married For 13 Months