Britney Spears Suffered A Major Wardrobe Malfunction, Almost Exposed Her Breast While Partying
Music News●0 min read●
While attending a party in Cabo San Lucas, Britney Spears suffered from a wardrobe malfunction as her dress slipped from her chest. Page Six got a video when Britney Spears was seen dancing when a sleeve from her red dress fell and almost exposed her breast.
Her friend and bodyguards accompanied her to the party. She did not give any attention to the matter and kept dancing. After a few moments, she just pulled the sleeves back up and adjusted her dress mindlessly.
She accessorized the look with a choker necklace and white-rimmed sunglasses and made a messy bun. Britney made an instagram post to say that she was "embarrassed as hell" as the video footage got shared on social media. She also mentioned that she "had no idea I was being recorded from all sides !!!"
Britney further said, "I'm only human and I have no idea what the hell is going on with my hair but I made a pit stop in Mexico." She said she was taking a flight to Italy and hoped that she could be more anonymous there. Spears is celebrating her recent single and going horseback riding topless and also photographed while she got new tattoos.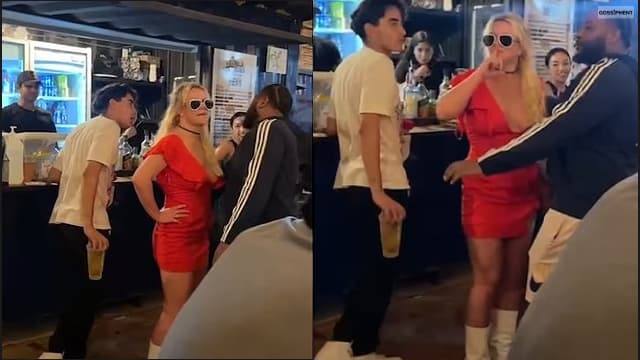 Ironically, Spears visited Cabo before getting separated from her husband Sam Asghari. The fitness instructor filed for divorce on August 16 after 1 year of marraige. Spears made a post on Instagram on August 19, saying, "As everyone knows, Hesam and I are no longer together. Six years is a long time to be with someone so, I'm a little shocked but … I'm not here to explain why because its honestly nobody's business !!!"
Asghari also posted, saying, "After 6 years of love and commitment to each other, my wife and I have decided to end our journey together. We will hold onto the love and respect we have for each other and I wish her the best always," he continued, adding a casual "s–t happens."
They have been having issues for a while
According to a report Page Six made said that the couple was living separately at the time he filed for divorce. Their source also said, "Of course she feels let down. … Anyone would when your partner is not providing for you in the way you feel you need to be provided for. She booked great, high-end vacations and paid for everything. They went everywhere on [a] private jet."
The source also said, "But he was not super present. You only have to ask, where was he when Britney was filming all her Instagram videos? He would just disappear for months to go filming [for work], and she would be left all alone. There were times when he would just get up and go."
Read Also:
■ Sam Asghari Unfollows Britney Spears Amid Divorce Proceedings
■ Britney Spears getting close with criminal housekeeper amid Sam Asghari divorce