Joe Jonas Was Spotted Out For Breakfast With His Kids, After Filing For Divorce
Celebrities News●0 min read●
Joe Jonas And Sophie Turner are getting a divorce after four years of marriage.
Jonas mentioned that he was the one taking care of their daughters in his filing of the divorce. He provided more evidence to support his claim by setting out on a breakfast date with his kiddos.
The Jonas Brothers frontman was in complete dad mode on Wednesday at Sweet Butter Kitchen in L.A. He was with his little ones– 3-year-old Willa and 1-year-old sister, whose name has not been revealed yet. A friend accompanied them, who appeared to be helping him out.
Joe looked happy, or maybe put on a happy face for the children. They exchanged high-fives as everyone ate and stayed merry. The 34-year-old did not look like he was in the middle of a divorce.
Joe filed for divorce from Sophie on Tuesday, asking for joint custody of their kids. The documents mention that Joe has requested for a judge to rule out a parenting plan that will allow frequent contact between him and Sophie.
TMZ reported that the couple's relationship has hit the rocks for the last six months, given their very different lifestyles. Multiple sources have claimed that Joe saw something on a ring camera that made him decide to file for divorce.
Joe and Sophie have since broken their silence, releasing a joint statement that after four years of marriage, they "mutually decided to amicably end our marriage."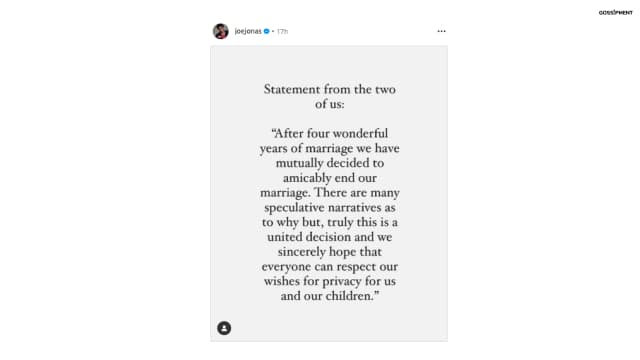 The statement continues, "There are many speculative narratives as to why but, truly this is a united decision and we sincerely hope that everyone can respect our wishes for privacy for us and our children."