Julia Fox Posed For Photographers In Her Nearly-Nude Attire At The NYFW Event
Celebrities News●0 min read●
Julia Fox attended the pre-New York Fashion Week with her bold sense of style, where she let it all out. The star from "Uncut Gems" stepped out with Naomi Campbell for the launch of the new collection of "Pretty Little Things." She made sure of the fact that she caught all the attention of her fans as well as the media.
33-year-old Fox walked almost nude down the red carpet outside Cipriani Downtown. She chose an excruciatingly small metal panty and bra set for the occasion. The bra just concealed her nipples, while the bottoms only covered her private parts. Almost all of her vagina and breast was bare.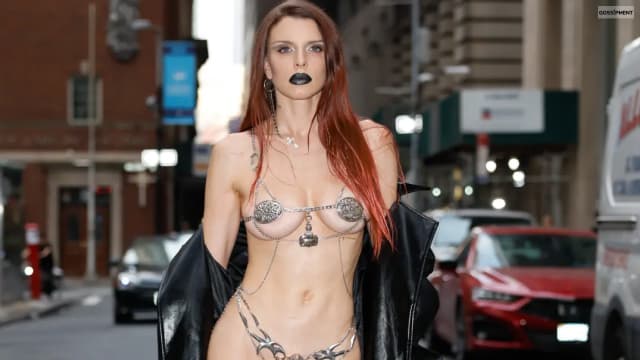 She accessorized her bold look with a black leather floor-length trench coat from Campbell's collection and left it unbuttoned. The one-time girlfriend of Kanye West, the controversial rapper, completed the whole look with black lipstick, chrome eyeshadow, and black leather boots to match the outfit and her entire look.
Forgoing any pretension, Julia Fox insisted on keeping the coat open while she was posing for photographs. It was recently when Julia Fox experimented with platinum hair and bleached eyebrows, but for the event, she decided to get auburn locks and styled them straight and down.
Fox was seen breaking all kinds of fashion barriers this summer, from a chained-up bikini to a thong bodysuit, which is almost see-through. She also sported a sequined red gown with a butt cutout in the shape of a heart for the British Vogue party and starred in a beauty campaign inspired by BSDM for a new makeup line.
The influencer wore a condom-covered clear nude top early in the year and freed the nipples. Fox also paired bags and boots to match her outfit.