Another Year, Another Win: Taylor Swift Won The Most Awards At VMA 2023
Awards●0 min read●
Another day, another show, another award. Taylor Swift took home not just one but nine coveted Moon Person awards, including Artist, Song, and Video of the Year. It can be said that she was the biggest winner at the MTV Video Music Awards 2023.
She was put under most of the nominations for eleven categories and won 9 among those, leaving out Song of the Summer and Best Editing. She took center stage the whole night for her song "Anti-Hero." Besides her top three wins, she also won Best Direction, Best Pop, Best Visual Effects, and Best Cinematography. Album of the Year for "Midnights," and Show of the Summer.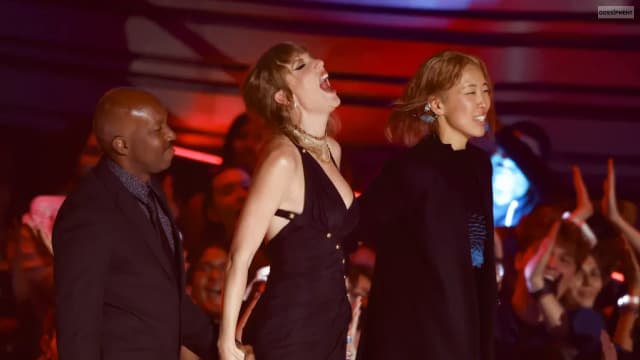 After the show, Swifthow has 14 VMAs, which places her just after Boyence, who has 16, and Madonna, who has 20. This is the second time in a row that she took home the top prizes of the night.
Swift gave an acceptance speech where she said, "This is unbelievable. The fact that this is a fan-voted award means so much to me. It's really felt like the adventure of a lifetime this past year. I cannot believe that it was a year ago at the VMAs that I announced the 'Midnights' album. All I have to say tonight is thank you."
Swift made history by being the first person to win the Video of the Year award four times. For the "Best Direcion" category, she took the award for the third time.  She won the song of the year award after beating  SZA's "Kill Bill" and "Flowers" by Miley Cyrus.
During her speech, she was interrupted by the crowd, who screamed her name and gave thunderous applause. To that, Taylor Swift said, "It's the best way to be interrupted, by the way, just people chanting your name. It's really the only way to be interrupted, And I would know."
Have you read these?
■ Blake Lively Looks Stunning At NYFW In A Second-Skin Gold Sequined Jumpsuit
■ Lindsay Hubbard Never Approved Of Carl Radke's Breakup Note To Their Wedding Guests