Wedding Bells For Bachelor Nation's Abigail Heringer And Noah Erb After 2 Years Of Dating
Celebrities News●0 min read●
Yet another Bachelor Nation duo is headed for marriage.
Abigail Heringer and Noah Erb met while filming Bachelor in Paradise in June 2021. They are now engaged. The couple shared the news with a joint carousel post of gorgeous pictures from the beach proposal in San Diego, California. 
Their proposal has been recorded, and Erb was seen holding Heringer's hands while she cried incessantly, "Abby, honestly, you are the most beautiful person, inside and out, I've ever met — and it would be absolutely stupid if I didn't ask you to be my wife and spend the rest of my life with you."
"So, with that being said," he continued while reaching for a Keyzar Jewelry box, "I've rehearsed this quite a bit." Rose petals strewn all over near their feet, with the sun setting behind them, Erb proceeded to get on his knee to ask, "Abigail Heringer, will you marry me?"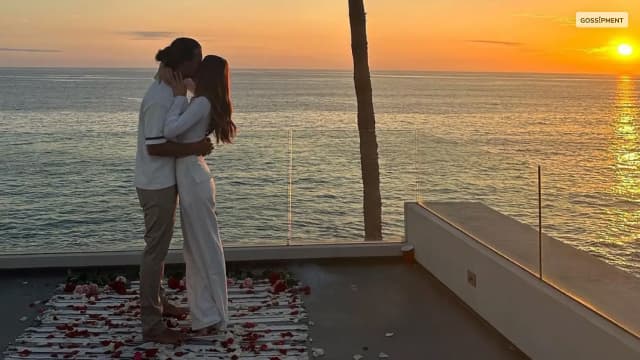 Heringer gushed through her tears, "Yes!" making her already nervous new fiancé ask, "Are you sure? You're shaking!" With that, Erb puts on a large oval-shaped diamond on her left ring finger and follows it with a passionate kiss while onlooking close family and friends hooted and cheered. They stayed hidden for the special occasion.
The newly betrothed duo shared a joint post captioning it, "I've loved you three summers now, honey, and I want 'em all (emoji)," quoting Taylor Swift. Their six-slide post had some of the key moments from their engagement.
They stayed twinning in white ensembles. The Bachelorette Season 16 contestant wore a polo shirt and khaki pants, whereas the Bachelor Season 25 alum sported an off-the-shoulder sweater with linen pants.
Their love story began with Bachelor In Paradise season 7, but both the love birds ended the show being single. In October 2021, they reconciled. 
Sharing an Instagram reel, Erb wrote, "You never know what you have until it's gone, then you never let it go. I love you @abigail_heringer , here is to laughing through life until we are old (emojis) (World, meet my new GF, turns out we do know how to talk to eachother [sic] and I think I'll keep her)."
Last June, Heringer moved from New York City to Erb's place in Huntington Beach, California. 
Trending on Gossipment:
■ Kuwait And Lebanon Ban Barbie, Hint: Morality
■ Madonna's Son David Covers The Popstar's Face As The Mother-Son Duo Skips Town
■ Lil Tay, The 14-Year-Old Rapper, And Social Media Influencer Died Under Mysterious Circumstances