Ariana Grande And Ethan Slater Appeared Together At Disneyland Amidst Their Respective Divorces
Celebrities News●0 min read●
Ariana Grande and Ethan Slater continue their healthy relationship between their respective divorces. The couple was seen with their arms linked as they walked around Disneyland this Friday. Deuxmoi, the celebrity blog, obtained the photos.
The pair was photographed from the back while waiting for their ride. A few of their friends joined them later, and one of the park guides saw the "wicked" co-stars getting a tour. 31-year-old Slater and 30-year-old Grande tried to stay unnoticed and dressed in baggy sweats and baseball hats.
Ariana Grande was dressed casually with sheer black tights and pleated skirts. They went on an outing after Grande filed for divorce from Dalton Gomez after being married for two years. But the pop star requested to keep their prenuptial agreement intact. She also appealed for considering a few of her priced jewelry as separate assets and property.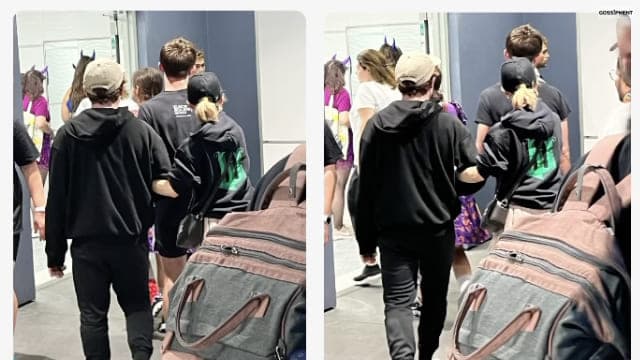 According to a source who told Page Six, their relationship has been quite friendly despite their separation. An insider told TMZ there is no hatred between the two: "they've been really caring and respectful of one another every step of this process."
But the situation of Slater with his estranged wife, Lilly Jay, is quite the opposite of Grande and Gomez. Slater shares his one-year-old son with Lilly. The news came out back in July that Grande was dating Slater, the Broadway star. Sources have told Page Six that their relationship "completely blindsided" them.
After a week, when their romance got exposed, Slate filed for divorce from Lilly. The next day, Jay slammed Slater in a Page Six interview, saying, "Ariana's the story, really. Not a girl's girl. My family is just collateral damage." insiders previously mentioned that Lilly was a "wreck," and somehow believed that, "nothing appeared wrong between them."
MORE FOR YOU:
👉 Kourtney Kardashian Was Blasted By Malibu Mayor, For Lying About A Party Permit
👉 Writers Guild Of America Has Made A Preliminary Agreement Amidst Their Ongoing Strike