Irina Shayk Goes Under the Radar in Black Ensemble Post Tom Brady Fling
Celebrities News●0 min read●
Irina Shayk tried to keep a low profile as she got spotted after her sleepover at Tom Brady's. In an exclusive set of photographs Page Six, a gossip outlet, has obtained, the Russian model was seen getting into a black SUV on Friday in New York City.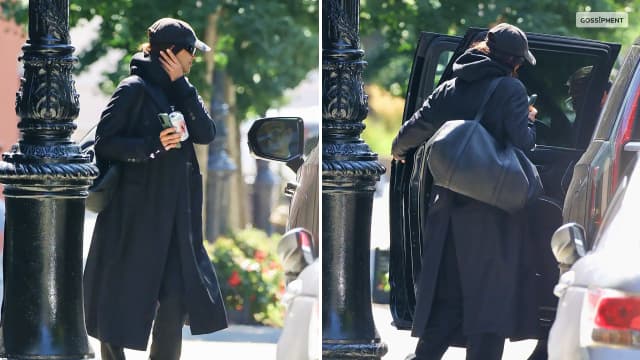 The heat wave in New York made the temperatures rise to touch the mid-90s, and yet the model seemed to be unbothered sporting a heavy black coat over a black hoodie, black pants, and black sneakers. She paired the look with a black duffle bag. 
Irina is seen after a week since Page Six reported that she and Brady had spent the night at his crib. She also a black baseball hat to go as incognito as possible. The NFL icon had picked Irina up from Hotel Bel-Air and drove to his place in Los Angeles. 
Shayk, 37, mother of one, was only seen coming out the next morning at around 9:30. That morning, Brady dropped her back off at the hotel. TB12 then picked her up again in the same afternoon in his black Rolls-Royce before returning back to his place together. 
While in the car, stopped by a light, Brady, 45, was seen caressing Shayk's face while they shared a tender, joyous moment. The Russian beauty was equally smitten if pictures speak the truth.
Irina has dated a line-up of A-listers over the years, most illustrative of which would be Bradley Cooper, who she was with for four years. She dated football star Christiano Ronaldo between 2009-2015. A brief link-up with Kanye West was also reported in the summer of 2021. 
Bradley Cooper, Shayk's ex, "isn't freaked out" by the developments, although Gisele Bundchen, Brady's ex-wife, who he was married to for 13 years before divorcing in October 2022, is "not happy at all." They share two children, a son Benjamin (13), and a daughter Vivian (10). 
Trending on Gossipment:
👉 Ariana Grande Has A New Flame For Her 30th Birthday Before Dating News Hits
👉 'Billions Club: The Series' Trailer Stars Post Malone, Bad Bunny, And Billie Eilish
👉 Double Vacation: Kevin Costner And His Wife Took Their Kids To Vacations Separately