Kanye West Is Pushing The Limits As He Goes Risque On His Italian Boat Ride With 'Wife' Bianca Censori
Music News●0 min read●
Kanye West was caught with his pants buttoned halfway during a boat ride in Italy with his "wife" Bianca Censori.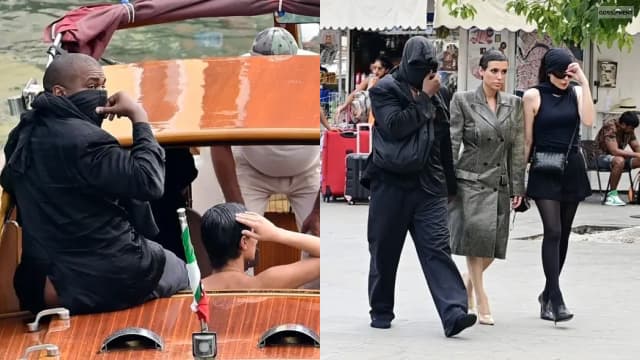 West, 46, gave his an unwarranted show of his butt to tourists in neighboring boats. The rapper was unfazed as he looked too much in awe of his employee-turned-muse. They rode through the famed canals of Venice on Sunday afternoon.
The duo appeared relaxed during the trip, where a driver and another unidentified female friend joined them.
West sat on an elevated and open area of the boat with his pants partially down for unspecified reasons. He wore all black for the ride. The Grammy winner's face was covered with a facial covering as he looked around, taking in the views.
Censori was seen sitting nearby. Once the boat came to a halt, Censori adjusted her gray leather trench coat while getting off the vessel.
The couple and her shoeless "husband" held hands as they walked around the streets with the mystery friend, who also wore an all-black ensemble with matching sunglasses.
While they strolled, the female companion grabbed Censori's spare hand, and the trio walked through the streets.
West And Censori Relationship History
The highly-speculated couple married in a non-legally binding wedding ceremony in January. They spent the majority of August making PDA-packed headlines wearing the most bizarre outfits.
West has been spotted without footwear and Censori without a bra.
They were spotted most recently sunbathing in Florence. West was seen shirtless, standing on the back of the ensconced lounge area. Censori wore a bikini, getting tanned on a beige towel laid on the ground in front of the cabana.
She wore nude-colored bra tops and matching bottoms, staying consistent with her fashion choices.
"I'm trying to read my book, but I'm too distracted by Kanye West and his new wifey sitting next to us at the pool chatting about writing [his song] 'N****s in Paris,'" an eyewitness posted on their Instagram Story. The pair "wed" two months after the finalization of his divorce from his first wife, Kim Kardashian. His relationship with the Kardashian look-alike came close on the heels of the public outrage against his anti-semitic remarks.