Kim Kardashian Scolds 7-Year-Old Son For Showing Middle Finger To Paparazzi
Celebrities News●0 min read●
Kim Kardashian was in full mother mode when she ended up scolding her 7-year-old son, Saint, for using a really rude hand gesture. The Skims entrepreneur looked stern when she saw her seven-year-old holding his middle finger to the paps while leaving his basketball game in LA on Friday.
The reality TV star stepped out in a pair of high-waisted jeans and a strapless top alongside her son, whose father is her former husband, Kanye West. The 42-year-old Kardashian sibling also wore an oversized watch, towering beige pumps, a pair of dark shaded, and carried a black quilted purse.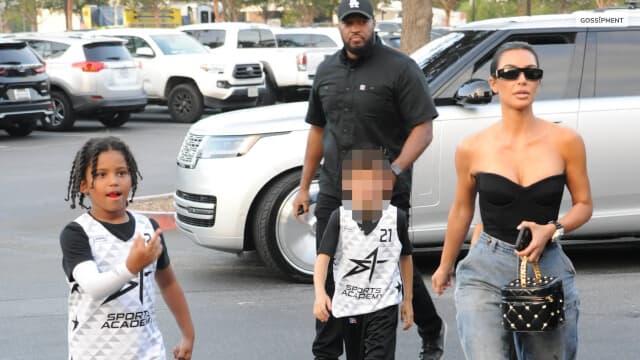 The youngster was on his white basketball journey when they met the photographers in the parking lot of an Islands restaurant. Saint giggled after holding his middle finger to the paps – which led to his mother scolding him.
Earlier in the year, Saint gave fans a very rare glimpse of their family dynamic with a sweet message on Mother's Day. In a clip posted on Kim's Instagram story, he was saying, "Mom, I'm very grateful to you. I know I'm mean to you a lot. I say you're nothing to me, but you mean the world to me. I love you more than anything. You're my favorite in the family. I even love you more than my cute little brother, Psalm."
You May Also Like:
👉 Amid The Divorce, Sophie Turner Is Keeping It Together And Filming Her Shows
👉 Katy Perry Gave A Hint About Knowing "The Real Truth" About Russel Brand
👉 'The Drew Barrymore Show' Is Pausing Their Production Because Of The Negative Responses