Lenny Hochstein Reveals He Had 'anxiety' While Proposing To His Now-Fiancée Katharina Mazepa
Celebrities News●0 min read●
Lenny Hochstein recently revealed about having anxious moments before he proposed to Katharina Mazepa, his now-fiancée.
The 57-year-old plastic surgeon confided in US Weekly on Tuesday, "My plan was to go to a cliff in Ibiza to watch the sunset. I enlisted a close friend to film the event. I was not nervous about the proposal, but I am afraid of heights, so the whole 'being on the edge of a cliff' gave me far more anxiety than the proposal."
The pair announced their cute engagement news on the gram this Saturday with a few snaps taken on the engagement spot. A 27-year-old unsuspecting Mazepa captioned the snaps with the line – 'On top of an ancient pirate cave, overlooking the sunset over breathtaking Es Vedrá, he asked to steal me away forever.'
The proposal video showed the beautiful model jumping into the arms of Hochstein. A surprised Hochstein later told the outlet, "Having Kat jump on me, which is something she loves to do, was a little unexpected. But it's her move, so maybe I should have expected it."
A glowing Mazepa happily showed off her diamond ring – it's radiant, it's rare, it's a 12-carat diamond ring. As per the style experts on Page Six, the ring is worth 1 million dollars.
The CEO of Rare Carat, Ajay Anand, said, "Finding a high-quality diamond in this carat weight is exceptionally rare, and weeks of planning likely went into selecting Katharina's exact diamond. The size and beauty of her diamond is truly breathtaking."
The pair's engagement news came out while Lenny was still legally married to Lisa Hochstein.
The 41-year-old Real Housewives of Miami star has been involved in a mess of a divorce with her estranged husband since May 2022. A sarcastic Lisa congratulated her former husband and his fiancée only hours after the news of the engagement came out on Instagram.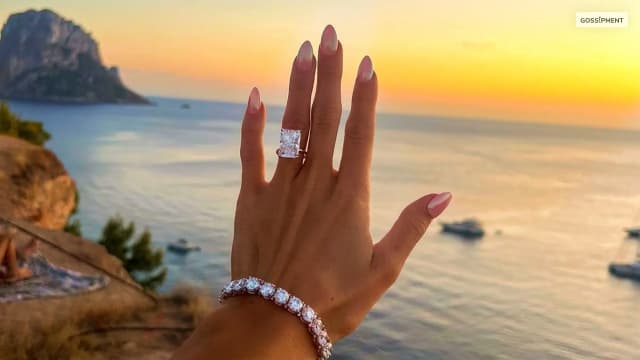 Lisa also took to Instagram and posted on her story – 'Congrats to my current husband and his mistress on their engagement.' At the same time, she also slammed Marina Hochstein, the mother of her former husband, for publicly criticizing her while praising her son on socials. 
Marina commented, 'I will be very happy that this time you are getting a woman who loves and respect you. You certainly did not have that in your previous marriage. Good luck, congratulations.' on Lenny's post. 
The reality star immediately replied back with a 'What a wonderful mother-in-law and grandmother. How disgusting.'
Previously, Lisa had accused her husband of twelve years of cheating on her with the Mazepa. While Miami's 'boob god' denied the claims, there's no denying that he was indeed dating Mazepa at the time for over a year.
A court battle ensured, and Lenny was asked to pay $8,000 every month to his estranged wife in April as temporary support. The judge also required Lenny to pay for school tuition, extracurriculars, and camp for his two kids, Elle (3 years) and Logan (7 years). 
Trending on Gossipment:
👉 Sheila Oliver, Lieutenant Governor Of New Jersey, Passes Away At 71
👉 Beyonce Kept Lizzo's Name of the Lyrics in 'break My Soul's' Remix Version
👉 Treat William's Crash Perp Has Been Charged With "grossly Negligent" Driving, Nearly Two Months After His Demise