'I Feel Humiliated': Lindsay Hubbard Speaks Up About Carl Radke Breakup
Celebrities News●0 min read●
Lindsay Hubbard has spoken out for the first time since Carl Radke called off their engagement.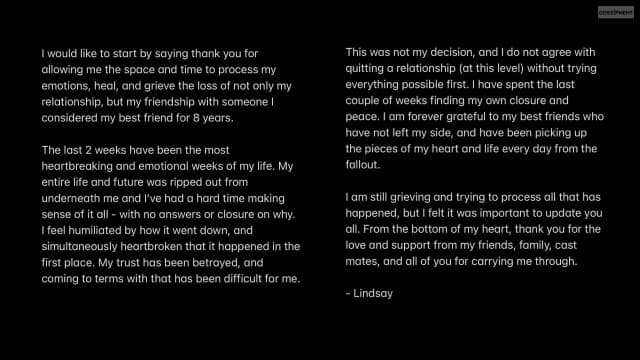 Sharing her thoughts on Instagram, she wrote, "I would like to start by saying thank you for allowing me the space and time to process my emotions, heal, and grieve the loss of not only my relationship, but my friendship with someone I considered my best friend for 8 years."
Hubbard said the last two weeks of her life "have been the most heartbreaking and emotional."
She continued, "My entire life and future was ripped out from underneath me and I've had a hard time making sense of it all – with no answers or closure on why. I feel humiliated by how it went down, and simultaneously heartbroken that it happened in the first place. My trust has been betrayed, and coming to terms with that has been difficult for me."
Hubbard, 37, said the breakup was "not my decision," stressing the fact that she does "not agree with quitting a relationship (at this level) without trying everything possible first."
"I have spent the last couple of weeks finding my own closure and peace. I am forever grateful to my best friends who have not left my side, and have been picking up the pieces of my heart and life every day from the fallout," she explained.
The Bravolebrity revealed that she was "still grieving" and "trying to process all that has happened."
She ended her heartfelt message by saying, "From the bottom of my heart, thank you for the love and support from my friends, family, cast mates, and all of you for carrying me through."
Hubbard has erased all her pictures with her ex-fiance and turned off comments for her latest post since the breakup.
The former couple had previously decided to say "I do" at a destination wedding in Mexico in November, but everything changed when Radke decided not to go through with it.
Radke, 38, told the wedding guests that Hubbard was "devastated."
"Words cannot possibly express how difficult the last two weeks have been for Lindsay and I. We are so incredibly sorry to all of our guests for the confusion and lack of communication," he wrote in a letter.
Recommended Reading:
■ Lindsay Hubbard Never Approved Of Carl Radke's Breakup Note To Their Wedding Guests
■ Craig Conover Thinks Radke, Hubbard's Split Would Make Sense When Summer House Releases