NSYNC Reunited On The VMA Stage, And Taylor Swift Fangirled Out On Them
Music News●0 min read●
This was not just a fangirl moment for Taylor Swift but for many 90s kids as well. NSYNC reunited on the stage of VMA to present the Best Pop Video award to Taylor Swift. Justin Timberlake, Joey Fatone, JC Chasez, Lance Bass, and Chris Kirkpatrick reunited on the stage for the first time after a decade.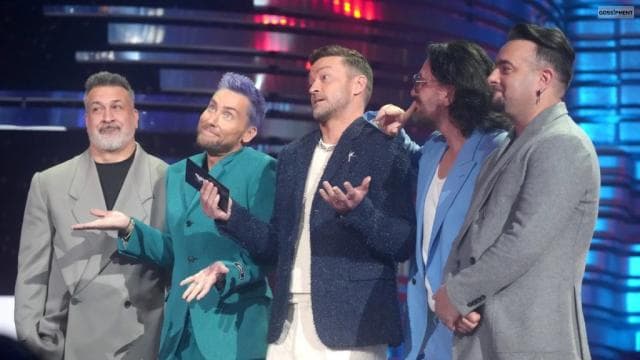 Fans went crazy as they saw all five of them together on stage to present the award. Nicki Minaj gave the introduction while they went out on "Bye Bye Bye," the song that got them their first VMA win back in their time.
Taylor went full fangirl on them as they came up on stage, and Lance presented her with a friendship bracelet she hugged each of the band members separately on stage and gushed over NSYNC in her acceptance speech as well.
She said she was having a hard time processing the award and the reunion together. She said, "I'm not doing well pivoting from this to this. I had your dolls," she fangirled. "Like, are you doing something? What's going to happen now … They're going to do something and I need to know what it is."
Justin Timberlake addressed the audience, saying, "Hello VMAs. Over 20 years ago, we were just kids when we won best pop video for 'Bye Bye Bye,' It was our first VMA and it meant the world to us — that award validated our hard work."
This is the first time that the bank came together after 2013, and this is the first time they came out together in public. The timing is perfect, as they are doing a song for the upcoming movie "Trolls." There was no performance from the band, but they got a warm reception from the crowd.
Trending on Gossipment:
■ Another Year, Another Win: Taylor Swift Won The Most Awards At VMA 2023
■ Karishma Tanna, Nominated For "Scoop", At Asia Contents Awards & Global OTT Awards 2023