Travis Barker Flew Back Home From Blink-182 Tour As Courtney Kardashian Was Hospitalized
Celebrities News●0 min read●
Travis Barker flew home from the Blink-182 tour suddenly after Kourtney Kardashian, his pregnant wife, was taken to the hospital. The star was admitted to the hospital briefly but is back home with her kids, according to a source who gave the information to People on Monday.
The source said, "She is feeling better. She is happy to have Travis back home, too." Kardashian went to the Los Angeles hospital with Travis on Saturday, so it was unclear why she had to rush back to the hospital the next day. PageSix asked their representatives for a comment but did not get any response immediately.
On Friday, Blink-182 announced that they are postponing their Europe tour as Barker is in the US dealing with an "urgent family matter." Their statement did not specifically say what the family emergency was, but that they had to reschedule their shows in Dublin, Glasgow, and Belfast and promised that they would come up with more information "as soon as possible."
"Together we pray," said Travis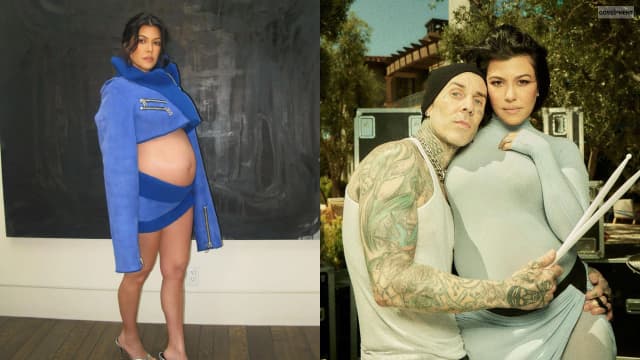 A few hours before the band announced, Barker posted numerous photos inside the prayer room of the Glasgow Airport. He gave an Instagram story with the caption, "Together we pray." He gave another story where he photographed the church's stained glass window. But Kardashian did not post anything about this on social media.
Barker and Kardashian got married in May 2022, and in June, they announced that they were pregnant with a baby boy, their first child. They have been trying for a baby for years, and they also showed their fertility journey on the Hulu reality show.
Kardashian then mentioned they were done with the process and wanted to conceive naturally. She said, "We would love a baby more than anything, but I just really believe in what God has in store for us. If that's a baby, then I believe that it will happen." Both of them have children, which they share with their previous partners, but they wanted one of their own.
Trending on Gossipment:
■ 'Dream Weaver' Singer Gary Wright Dies At 80 After Health Issues
■ Joe Jonas Puts On His Wedding Band During Tour Amid Retaining a Divorce Lawyer