Sister Wives: Kody And Christine Reunite For The First Time, Since The Split
TV Shows●0 min read●
The 18th season of Sister Wives picked up right where the 17th season ended. After breaking up with Kody Brown and making a move to Utah, Christine Brown visited Arizona to meet Janelle Brown. During her stay in Arizona, Christine decided to have lunch with Kody and talk about how their 11-year-old daughter Truly would spend the holidays.
This was the first time Christine and Kody reunited after Christine's move to Utah, only 2 months ago.
This Is How It Went…
Christine says, "I would like to have an amicable divorce and be able to talk to him about stuff. I think it's good to keep things lighthearted and casual as much as possible." Kody was, however, not as optimistic and mentioned, "I'm not feeling like I'm in a great place. I kind of feel like I never want to see her again. I want to spend some time hating her."
Kody's frustrations come from the fact that he believes Christine badmouths him to their children post their split.
After a super awkward hug, followed by an even more awkward hello, Kody and Christine begin discussing their holiday plans. When Kody asks Christine whether or not Truely and her mother will be doing a COVID test before they come to visit during Christmas, Christine is shocked that Kody is still being so strict about following COVID protocols.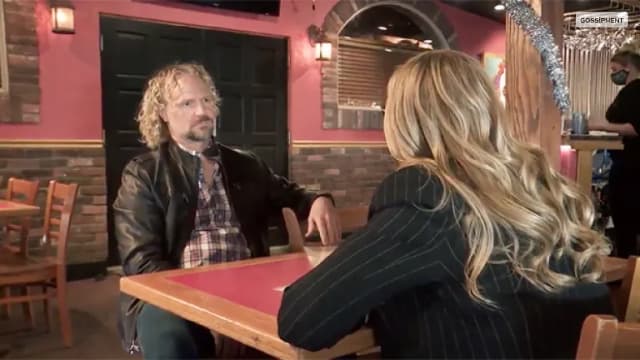 Kody replies that since Aurora, his daughter with Robyn, hasn't been sick, he wants to be careful with her.
Then, the conversation gradually turned towards how Kody was feeling so sick only weeks ago when he got COVID. Christine then goes on to recall how Kody was just 'out of it' when he called to wish Gwendlyn on her birthday. She explained, "Her description of you is what's funny. What are you gonna do? You can either laugh or cry about things. If you can't look back with a sense of humor…what a waste."
Kody Is Not Really Anyone's Favorite…
Kody was definitely not on the same page with Christine, though. In a confessional, he said, "I'm not laughing. I'm not laughing here. I haven't been laughing with her leaving. I've never been laughing about this thing. She asked me to stop staying at her place…wasn't laughing then. She moved my stuff in the garage…wasn't laughing then. She left with Truely…wasn't laughing then."
While Christine was filming her confessionals, she could not have cared any less about Kody's frustrating feelings and said, "I'm not married to him anymore, and it's so freaking awesome!
"Meanwhile, in the rest of the episode, we get to see how Janelle's frustrations are rising with Kody. The two split up during the summer of 2022, and this season will give a look into the marital issues of the pair.
Recommended Reading:
■ Amidst rumours of 'Thor 5', Chris Hemsworth's old statement ..
■ Marvel Has Finally Confirmed Iron Man's Real MCU Replacement
■ 'I couldn't take the pain anymore': Britney Spears breaks silence on divorce with Sam Asghari