Taylor Swift Photographed With Her Arms Around Travis Kelce, At A Private Party
Celebrities News●0 min read●
Taylor Swift and Travis Kelce, her rumored partner, were caught in a PDA moment after the Chiefs won the match on Sunday against the Chicago Bears. TMZ took pictures of the "Love Story" singer with her arms wrapped around the NFL star while celebrating their win at Prime Social in a private party.
In a picture, Kelce was looking down while sitting at the bar, and Swift was talking to someone standing beside them. This is the first time the couple appeared lovey-dovey in public.
There have been ongoing rumors that the duo is dating, while Swift attended the champ's game on Sunday and cheered for the team with Kelce's mom, Dona Kelce, from a private suite. When Travis scored the touchdown, Swift was photographed celebrating and cheering. She even dressed in the team color.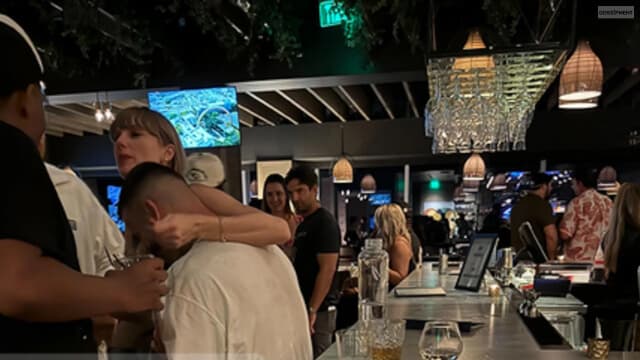 After the game, the duo took over the internet as they left the stadium together. However, there were no PDA moments then, and Swift left with the NFL star in his convertible.
Rumors about the duo started in July when the NFLstar mentioned that he wanted to pass on his number to the "Blank Space" songstress at her Eras tour. Just after they came out together in public, a source mentioned that they were just in the initial stage of the relationship.
The insider said, "They're just hanging out, and there's no pressure." at the moment, the duo is just having fun and spending quality time together. Travis spoke about his growing romance with the singer on the "New Heights" podcast last Wednesday and said, "She looked amazing. Everybody was talking about her in great light and, on top of that, the day went perfect for Chiefs fans."
MORE FOR YOU:
👉 Selena Gomez Is Showing Off Her Curves In Her Corsetted Look In Paris
👉 Britney Spears Posted A Video Of Her Dancing With Two Huge Butcher Knives