'This is Us' Isn't Making Mandy Moore Any Richer, the Residual Checks Show for It
Celebrities News●0 min read●
Mandy Moore has opened up about not getting paid for her hit TV show "This Is Us" when fans stream it. This Emmy-winning series has been popular for the last seven years. 
As she picketed outside Disney in Burbank, California, on Tuesday, Moore talked to the Hollywood Reporter about the ongoing SAG-AFTRA strike and its significance. She shared, "The residual issue is a huge issue," adding, "We're in incredibly fortunate positions as working actors having been on shows that found tremendous success in one way or another … but many actors in our position for years before us were able to live off of residuals or at least pay their bills."
Getting incredibly frank, Moore, 39, said she received 'very tiny, like 81-cent checks" as residual checks for the NBC series, later acquired by Hulu in 2017. "I was talking with my business manager who said he's received a residual for a penny and two pennies,"(sic) she added.
Scandal star Katie Lowes joined Moore, complaining about the literal pennies she made ever since Netflix acquired her show's streaming rights. Lowes explained, "If you are someone who has been fortunate enough in our positions to do 120-plus episodes of a successful show in previous years — 10, 15, 20 years ago — that re-airing would be the thing that could sustain you on years where I did this smaller project or I wanted to go do a play or you have kids and you have a family to provide for."
 "And that just not a reality anymore. The entire model has changed," she added. 
The ongoing SAG-AFTRA strike, which commenced closely on the heels of the WGA strike, went into effect since the organization failed to reach an agreement with the AMPTP (Alliance of Motion Picture and Television Producers). The AMPTP currently represents more than 350 major studios and streaming giants.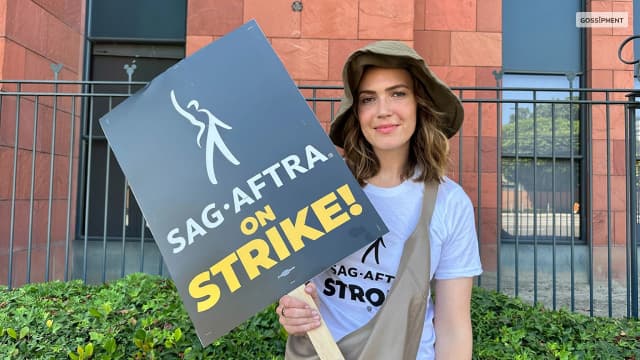 Fran Drescher, president of the SAG-AFTRA, announced soon after that they had "no choice" but to go on a strike. "What's happening to us is happening across all fields of labor … [Employers] forget about the essential contributors that make the machine run," she said at a press conference. "We have a problem, and we are experiencing that right at this moment… We demand respect … because you cannot exist without us," she concluded. 
Have you read these?
■ Sofía Vergara And Joe Manganiello's Divorce: Who's Getting What
■ Unfollow! Dina Manzo Has Pressed The Button For Teresa Giudice And Luis Ruelas Amid A Possible Feud
■ Ariana Grande Has 'No Tears Left To Cry' While Enjoying A Girls' Day Out With Cynthia Erivo, Amid Divorce News