Travis Scott, Kylie Jenner: A Complete Relationship Timeline
Celebrities●0 min read●
Their's story began in Coachella in 2017.
Kylie Jenner Travis Scott has a roller coaster of a relationship with breakups, pregnancies, cheating rumors, and engagement news. Whew!! How are we supposed to keep up with them? It's exhausting yet juicy as hell.
So buckle up! Cuz this is gonna be a wild ride…
October 2022
The Internet is heated with the cheating allegations against Travis Scott with a model named Rojean Kar.
To this allegation, Travis said on Instagram,
"It's a lot of weird shit going on. An uninvited person was sneaking photos on, what was supposed to be a closed set while I was directing a video. I'm saying this for the last time. I don't this person. I've never been with this person. So please stop with the continuous cyber games and the fictional storytelling."
Kar then replied,
"Saying you don't know me and you've never once been with me when you've definitely been with me, when fucking everybody's seen you with me, when I have pictures and videos of you with me, come on."
August 10th, 2022
Travis was with Kylie on her 25th birthday. He posted several pictures on his Instagram stories. He also posted pictures of Kylie with the caption, "Happy Fucking Birthday mi," with a brown heart.
July 14th, 2022
Kylie posted a TikTok video of Travis and Stormy making a baking soda volcano. The bond between the father and daughter is precious.
July 10th, 2022
After welcoming their second child together, Travis Scott Kylie Jenner went out for date night to Craig's in West Hollywood.
July 5th, 2022
Kylie showed off her cooking skills by making a sandwich for lunch for her, Travis, and Stormy. She captioned the picture as "Bae said I want a sandwich."
June 19th, 2022
Kylie shared a photo of Travis with their two kids on father's day. She captioned the picture, "Happy Father's Day daddyyyy, we love you."
May 27th, 2022
According to sources, Kylie and Travis talked about engagement for years, and it's not off the table.
"The priority has been about taking care of the kids. Keeping things between themselves clean and chilled and setting up boundaries that will give them the best chance of staying together in the long term."
May 15th, 2022
Travis Scott Kylie Jenner came all dressed up at the Billboard Music Awards 2022.
They even brought Stormy with them.
April 30th, 2022
On Travis's birthday, Kylie posted a beautiful picture of the two of them on Instagram. She then captioned the picture by saying, "Happy birthday my love my best friend, The most special person and father to our babies."
April 17th, 2022
Kylie posted a picture on Easter Sunday, showing Travis holding their baby boy in his arms. This was among the other pictures of their family celebrating Easter. 
March 26th, 2022
A source told ET that Kylie and Travis are very happy and proud parents of two beautiful children. "They are getting used to having teo little kids and it's a day-by-day process, but overall, they are doing great."
March 21st, 2022
Although Kylie introduced her son by the name Wolf Webster, she later revealed on an Instagram story that both Travis Scott Kylie Jenner wanted to change the name.
She later said,
"FYI our son's name isn't Wolf anymore. 😅😅 We just really didn't feel like it was him. Just wanted to share because I keep seing Wolf everywhere.🙏"
February 14, 2022
Not even two weeks after she gave birth to her son, Kylie shared pictures of how Travis surprised her with pink and white roses on Valentine's Day. With all the roses, there was a giant pink teddy bear and a gingerbread house.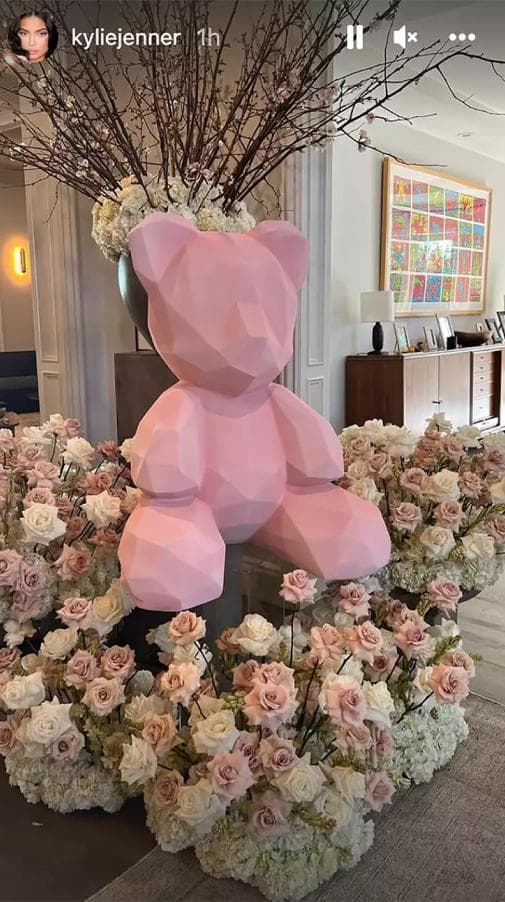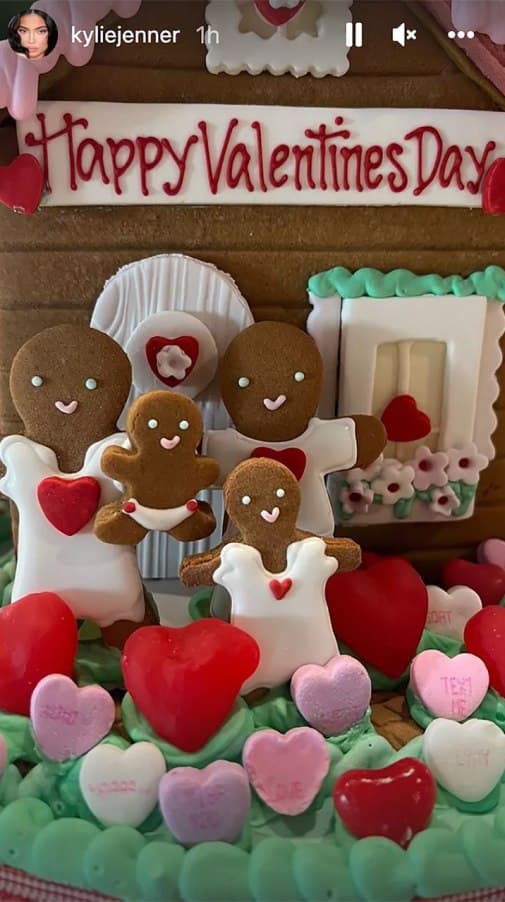 Kylie was all teary seeing all the gifts. A source added,
"They are enjoying being a family of four. Kylie is still resting and recovering. She likes staying home, Travis makes sure that she has everything that she needs. Stormi is helping out with baby brother. She is the cutest big sister."
February 6th, 2022
Travis Scott Kylie Jenner announced the arrival of their baby boy on 2nd February 2022.
February 2nd, 2022
It's a boy!! Kylie and Travis became parents to a baby boy on 2nd February, just one day after Stormi's birthday, who became a big sister.
November 6th, 2021
Following the tragic death of eight people at the Astraworld Festival, which left 300 people injured on 5th November 2021.
Travis Scott issued a statement saying,
"I'm absolutely devastated by what took place last night. My prayers go out to the families and all those impacted by what happened at Astroworld Festival. Houston PD has my total support as they continue to look into the tragic loss of life. I am committed to working together with the Houston community to heal and support the families in need. Thank you, Houston PD, Fire Department, and NRG Park, for their immediate response and support. Love You All."
November 6, 2021
August 28th, 2021
A source shared that Kylie Jenner and Travis Scott are closer than ever, saying they are "in a great place and have always wanted to give Stormi a sibling, and having another child was always part of their plan."
August 20th, 2021
Travis Scott Kylie Jenner broke the news that they are expecting a second child together.
June 15th, 2021
Travis Scott Kylie Jenner and their daughter Stormi flew to New York City to support Travis at the Parsons Benefit in New York City. Scott was honored with other creatives and also received an award at the bug night.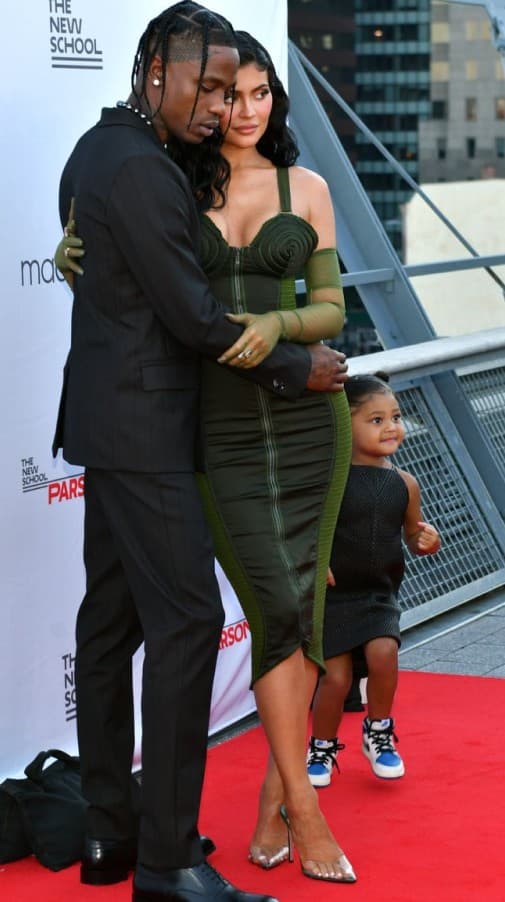 At the acceptance speech, Travis showed appreciation and love towards Kylie by saying, "Wifey, I love you so much."
May 21st, 2021
Kylie didn't hold back when TMZ made a false accusation claiming that Kylie and Travis were in an open relationship. She called them out on Twitter. 
you guys really just make up anything. pic.twitter.com/Q0LPxgiRGg

— Kylie Jenner (@KylieJenner) May 21, 2021
i'm not discrediting anyone who is in an open relationship but it's just careless and disrespectful to throw this narrative out there without knowing what's true.

— Kylie Jenner (@KylieJenner) May 21, 2021
May 5th, 2021
According to Entertainment Tonight, Travis Scott Kylie Jenner is back together… The source claimed that the two are "messing around and having fun together. They've always has a strong connection and chemistry and they've exploring their relationship romantically again."
February 2nd, 2021
E! News reports that "Kylie and Travis are still madly in love. You can tell every time they are together that there is a lot of love there. Both of their faces light up when they are together, and both seem very happy."
"Kylie and Travis spend a lot of time together with Stormi as a family and aren't ruling out getting back together. They aren't putting pressure on the relationship right now."
October 17th, 2020
Kylie and Travis posted a totally random photoshoot giving all sorts of thirst trapping.
June 21th, 2020
Kylie posted a cute Father's Day picture of Travis and Stormi. She decorated the place with all-blue decor.
June 4th, 2020
US Weekly reported that "Travis is still hopeful that there's a chance (he and Kylie will) reconcile." The source added, "they stay in touch and hang out.," although the couple "isn't back together" yet.
April 30th, 2020
Kylie gave the cutest shoutout to Travis on his birthday, with adorable pictures of him and Stormi. She captioned the pictures as "Happy Birthday Travis Scott!!! Stormi's daddy."
April 13th, 2020
Fans were excited to know that Travis Scott Kylie Jenner are quarantining with each other in Palm Springs. Fans heard his voice in the background of one of Kylie's posts. 
March 25th, 2020
Kourtney's son Mason gave us the biggest tea when he suddenly did an Insta Live, answering fan questions about Kylie and Travis's relationship status. He said, "No, Kylie and Travis are not back together."
December 2nd, 2019
Travis and Kylie sparked reconciliation rumors after being spotted all flirty and having fun together during thanksgiving. 
November, 2019
The Internet was divided when rumors popped up of Kylie Jenner being linked to Rapper Drake. PEOPLE reported that the two of them are spending a lot of time together.
The source also added, "They've been friends for a long time and Drake is very close to the family."
October 29th, 2019
A source added, "Kylie and Travis are still not back together. It doesn't look like they will immediately reconcile anymore. They have differing objectives and two different lives."
October 16th, 2019
Kylie's entire family wants her and Travis together. A source added, "Her family wants them to be together. Travis might not be perfect, but he's a great partner and dad. Everyone would be upset if Kylie can't figure things out with Travis."
October 1st, 2019
Kylie Jenner and Travis Scott are taking a break from their relationship. A source added, "They are taking some time but not done. They still have some trust issues, but their problems have stemmed more from the stress of their lifestyles."
September 13th, 2019
Kylie was on the cover of Playboy, also both of them talked about their sex life. Normal stuff! Their sex life has changed a little since Stormi was born.
Kylie said,
"You remind me that motherhood and sexuality can coexist and just because you embrace your sexuality doesn't mean you have loose morals or you're not a good mother. You can be sexy and still be a badass mom."
August 28th, 2019
The premiere of Travis's Netflix documentary, "Travis Scott: Look Mom I Can Fly." The whole family walked the red carpet.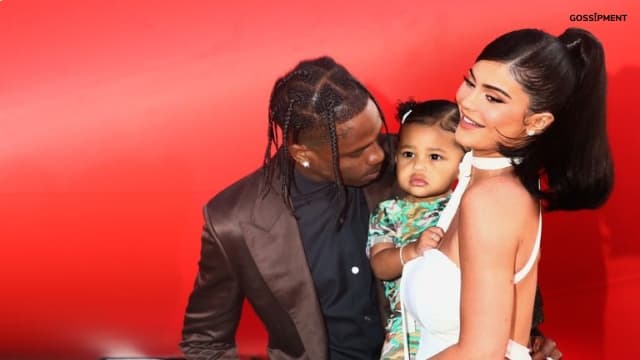 August 15th, 2019
For her 22nd birthday, Kylie arranged a week-long European vacay party, which included Travis and Stormi. Poor Kris, she wasn't invited at first!!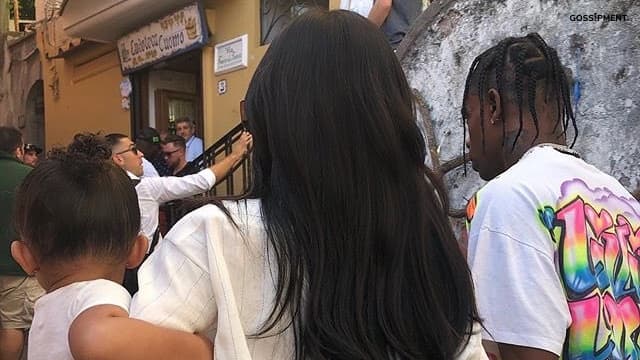 May 6th, 2019
All about the Met Kiss!
Both Kylie and Travis looked great at the Met Gala.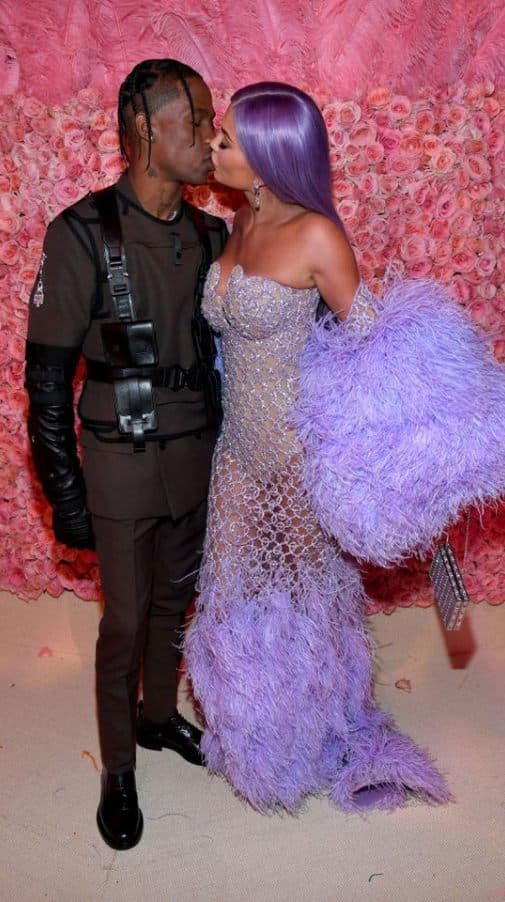 April 30th, 2019
For Travis's 28th birthday, Kylie wrote a lovely note for him, saying, "real life bestie & hubby wrapped into one." She also hinted at a second baby.
March 2nd, 2019
Travis Scott deletes his Instagram, a sign to prove that he is not DMing other girls to Kylie.
March 1st, 2019
Breaking News! Kylie has accused Travis of cheating on her, which made him cancel a show to fly back home. Although Travis's rep shut all these rumors down, stating, "the reason he stayed home from his show was very much because of illness."
February 18th, 2019
On a series of Instagram Stories, Kylie casually showed off her huge Engagement Ring. Is she trying to tell us something?
February 14th, 2019
Travis goes above and beyond for Kylie on Valentine's Day, decorating her entire house and then surprising her.
February 11th, 2019
Kylie and Travis are hot and heavy on the red carpet at the Grammys, with a steamy kiss.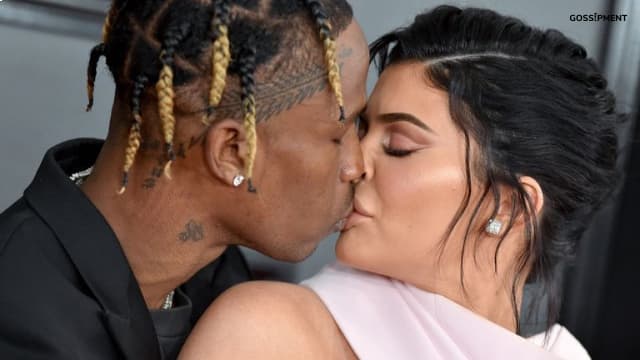 February 4th, 2019
Travis posted a picture of Travis on his Instagram Story wearing a huge rock on That Finger! The photo was taken at Super Bowl.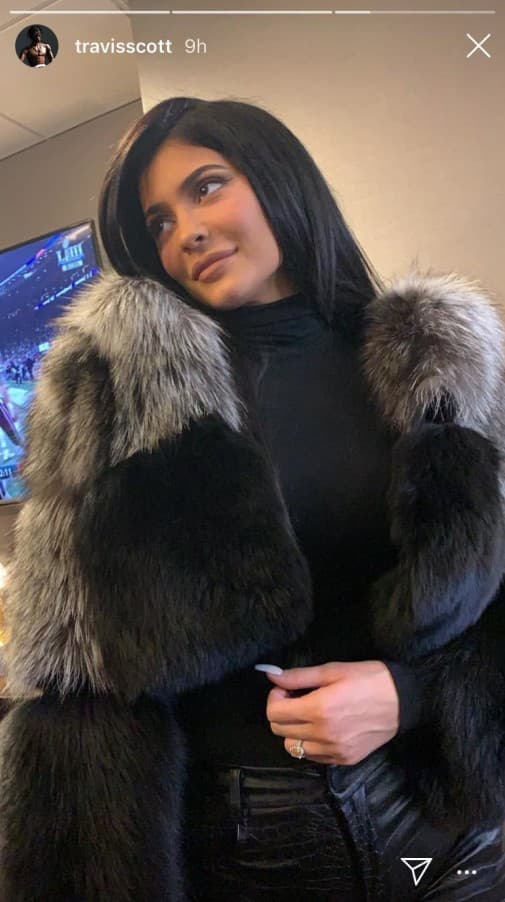 January 23rd, 2019
Kylie posted a picture with the caption, "extrano a mi esposo," it is Spanish for " I miss my husband."
January 21st, 2019
Kylie hilariously shuts down rumors that she is pregnant with her second baby. Lol!!
Noooo lol https://t.co/4TzxrU6eUk

— Kylie Jenner (@KylieJenner) January 21, 2019
January 18th, 2019
Travis and Kylie jet off to a Tropical vacay with Stormi taking beautiful pics.
December 4th, 2018
Travis quickly shuts down fake photos accusing him of cheating on Kylie. He posted both on Instagram and on Instagram Story.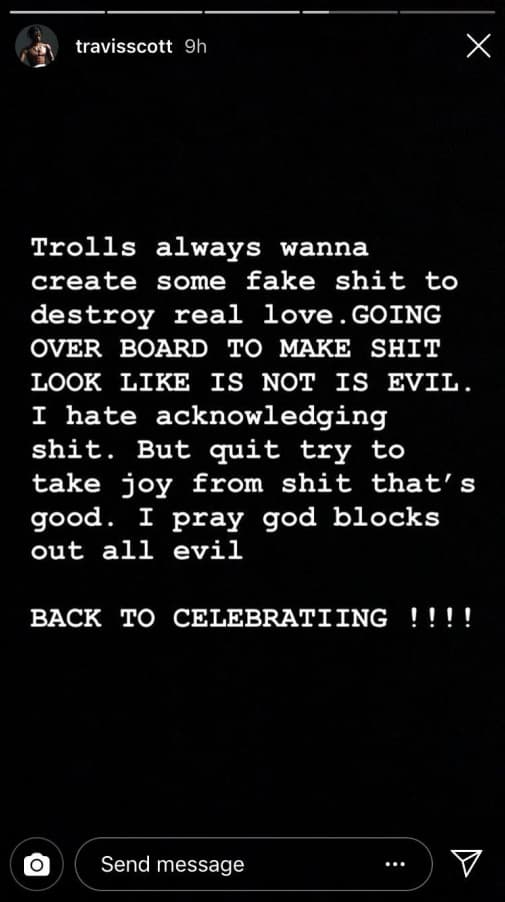 July 17th, 2018
Travis and Kylie were on the cover of GQ's 2018 Cover as a couple. There they talked about always being in the spotlight. And keeping their relationship private.
June 22nd, 2018
Kylie Jenner and Travis Scott head to France with Stormi to attend Virgil Abloh's first fashion show for Louis Vuitton.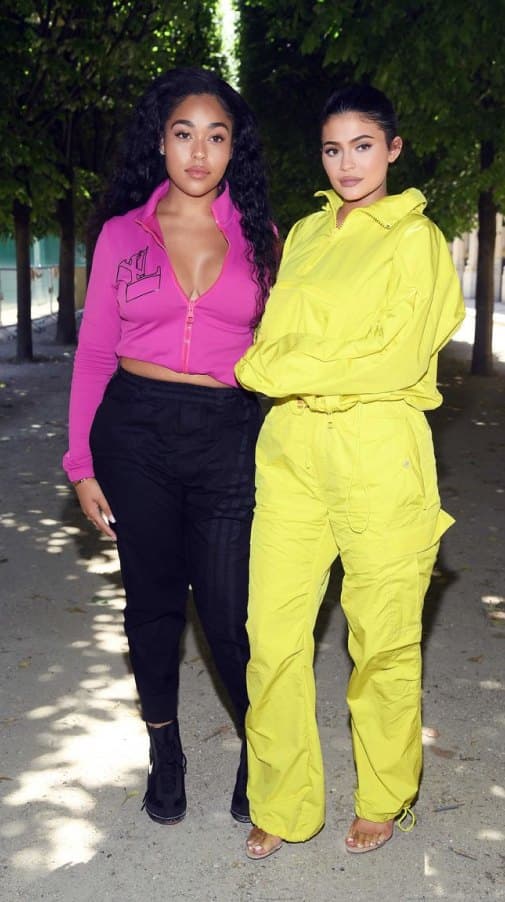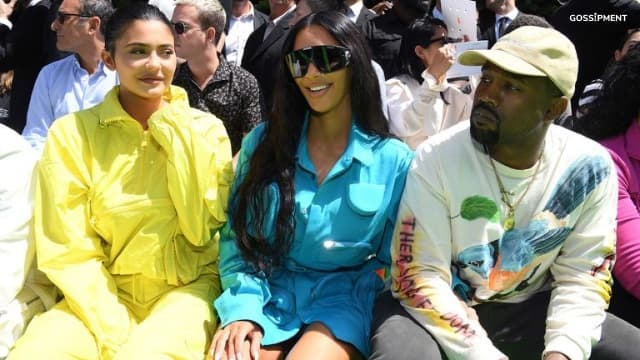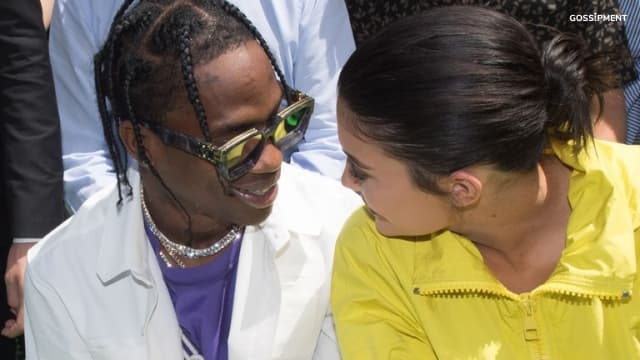 May 15th, 2018
Kylie shuts down all the stupid accusations that Kylie's bodyguard Tim Chung is secretly Stormi's father. She shut down all these rumors with just two words. She shared a picture of her and Travis, captioning it, "Stormi's Parents."
May 7th, 2018
The couple made their first red carpet debut, and what better event than the Met Gala 2018? The two looked gorgeous, even though they got the theme totally wrong.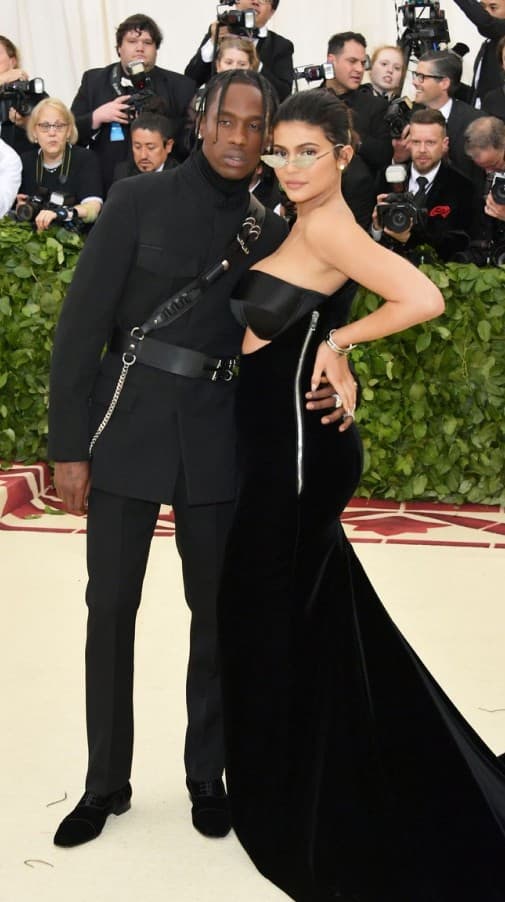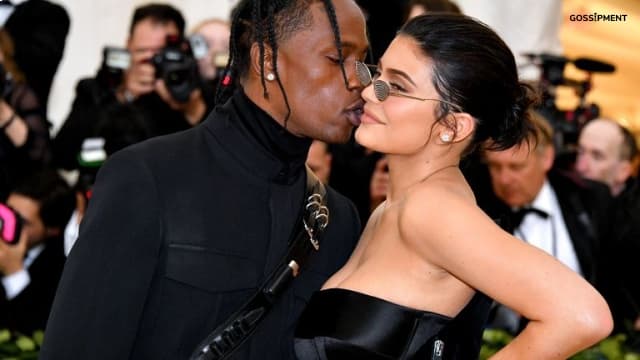 May 3rd, 2018
Travis and Kylie took only 3 months old Stormi for a vacay to Turks and Caicos.
April 28th, 2018
Kylie celebrated Travis's 26th birthday by renting Six Flags. All the guests were given customised hoodies of Travis Scott. 
April 9th, 2018
Travis and Kylie took 9 months old Stormi to Texas to meet Travis's extended family there.
April 1st, 2018
Kylie and Travis posted cute pics of Stormi's first Easter. 
March 8th, 2018
Kylie trolls fans by wearing a ring with the initials JW, Travis's initials (Travis Scott real name is Jacques Webster) on her ring finger.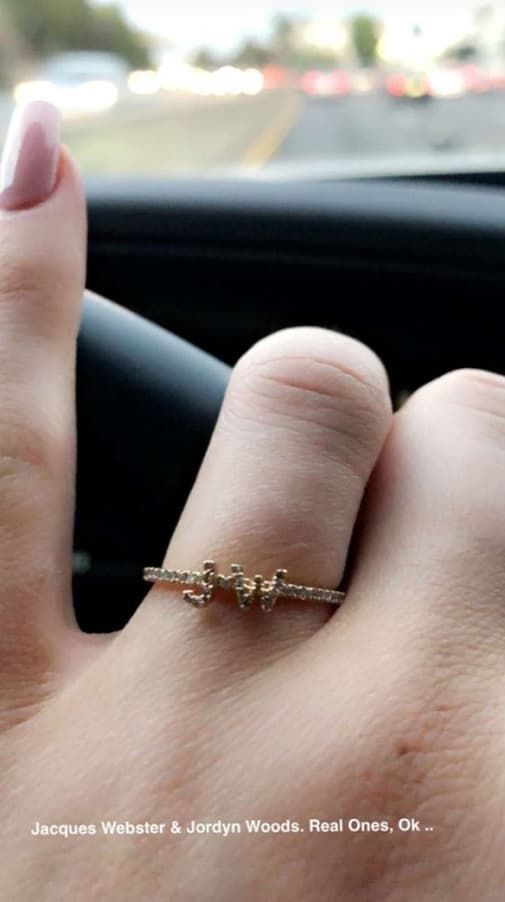 February 25th, 2018
Travis gifted a push present to Kylie, which is a $1.4 million Ferrari LaFerrari. Kylie shared the picture by captioning, "Can't believe she's mine."
February 18th, 2018
Paparazzi asked Travis when he was leaving a nightclub, about baby Stormi, to which he answered, "She's beautiful."
Only three days later, Kylie was asked the same by a fan online, to which she said, "She's good, still staring at her all day. She looks just like me when I was a baby."
she's good 😊 still staring at her all day. she looks just like me when i was a baby 😊 https://t.co/fEFsSeNO6Z

— Kylie Jenner (@KylieJenner) February 21, 2018
February 4th, 2018
Kylie finally announced that she gave birth to her and Travis's child on Instagram. She even released an 11-minute-long video on YouTube showing her journey throughout her pregnancy. 
Even Travis confirmed the news on his Twitter page. 
2.1.18
4 ever
New rager in town. !!!

— TRAVIS SCOTT (@trvisXX) February 4, 2018
Welcome messages were shared by Kylie's friends and family all over social media. 
God is SO good!! I am so excited and thrilled to welcome another precious baby girl to our beautiful, ever growing family. We are blessed beyond belief! https://t.co/lFrymHVFTs @KylieJenner

— Kris Jenner (@KrisJenner) February 4, 2018
❤️❤️❤️ https://t.co/gtVFS1mTb7

— Kendall (@KendallJenner) February 4, 2018
❤️👶🏽❤️ https://t.co/OPPTeOSVe1

— Kim Kardashian (@KimKardashian) February 4, 2018
February 1st, 2018
Kylie and Travis welcomed their baby daughter Stormi on this day.
November 5th, 2017
Kylie slammed Daily Mail for publishing altered and photoshopped pictures of her.
The pictures are of Kylie, Kendall, and Kourtney boarding a private plane; here, Kylie can be seen a baggy sweatshirt. To Kylie's claim Daily Mail replied, "the pictures have not been digitally altered."
The photographer also added, "100% REAL! No Photoshop, #NoFilter, no additives, no preservatives – all organic and all REAL!"
First of all if you're going to photoshop my photos blogs/paps!! Check for the crooked lines in the background.2nd photo is clearly altered pic.twitter.com/c9fi0EyhWB

— Kylie Jenner (@KylieJenner) November 5, 2017
October 10th, 2017
Fans are still speculating whether she is pregnant. And to tease them, Kylie posted on Snapchat two sets of pink and blue phone cases, captioning, "Which one? I'm thinking blue." This made fans speculate that she is having a baby boy.
So ur having a boy?? @KylieJenner pic.twitter.com/chtmCdvpUU

— Kenz (@KilgourMakenzie) October 9, 2017
BREAKING : Kylie Jenner pretty much confirmed she is having a baby boy #KeepItKardashian pic.twitter.com/t1LsiagRO2

— Michele Calicchio (@micheleecalicc) October 9, 2017
September 22nd, 2017
While everyone is speculating that Travis and Kylie are expecting their first child, Kylie uploaded a picture with her friends wearing an oversized t-shirt.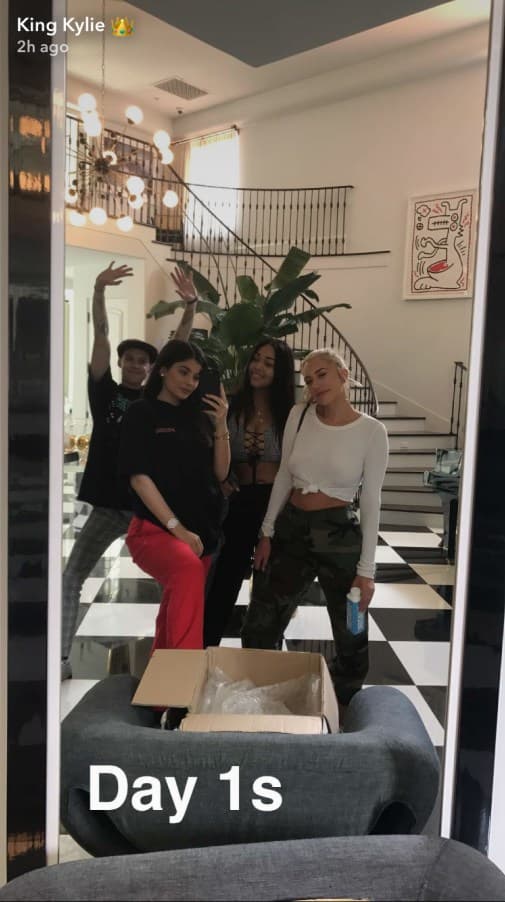 August 10th, 2017
Tarvis threw a surprise party for Kylie, and he pulled all the stops, literally, with balloons, chocolate fountains and a literal ice sculpture of Kylie's butt.
June 13th, 2017
Travis Scott Kylie Jenner inked matching tattoos of a butterfly on his left ankle and her right ankle.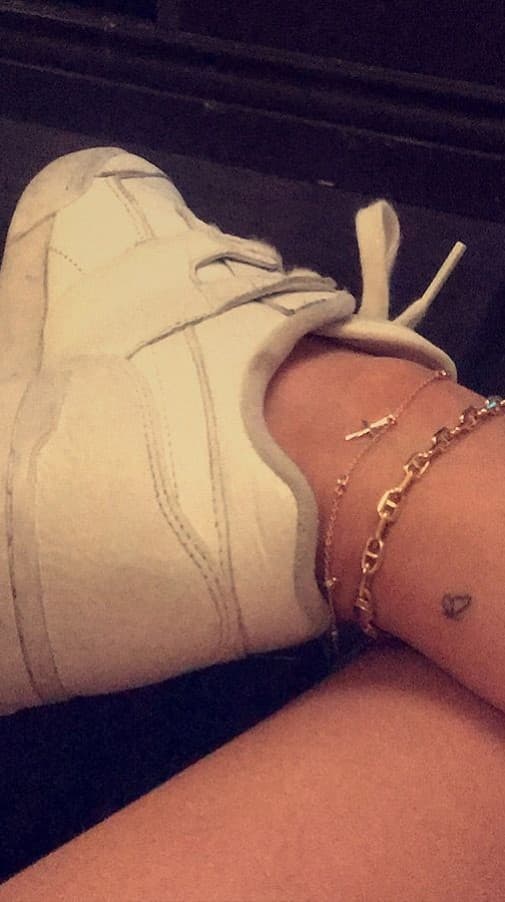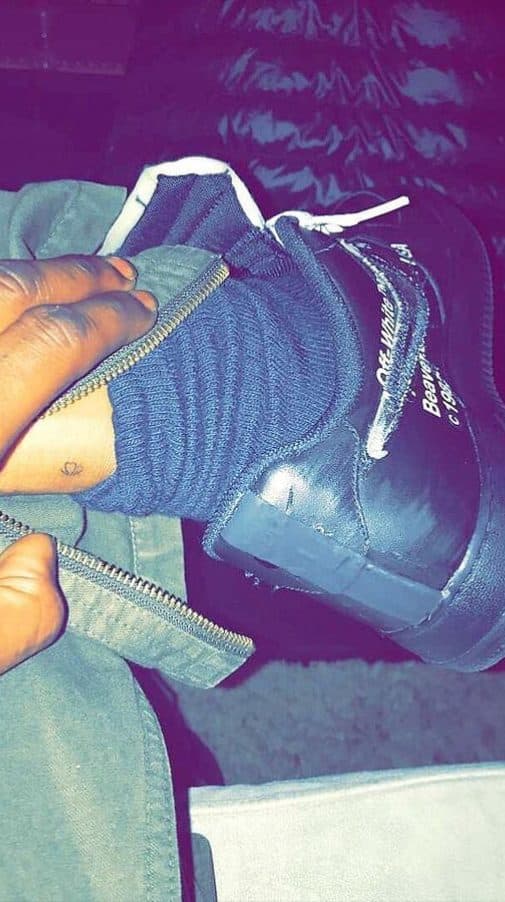 June 12th, 2017
Travis tweeted, "Legit happiest day of my life."
Legit happiest day of my life.

— TRAVIS SCOTT (@trvisXX) June 12, 2017
But fans won't link this with Kylie's pregnancy for another 3 months.
May 4th, 2017
At the 2017 Met Gala, we got to see a blonde Kylie in a group photo. P Diddy hilarious cropped out Kylie and Kendall before uploading the picture.
April 30th, 2017
Travis and Kylie headed off to Boston over the weekend, where he was scheduled to perform two shows. They were spotted making out and dancing at the concert.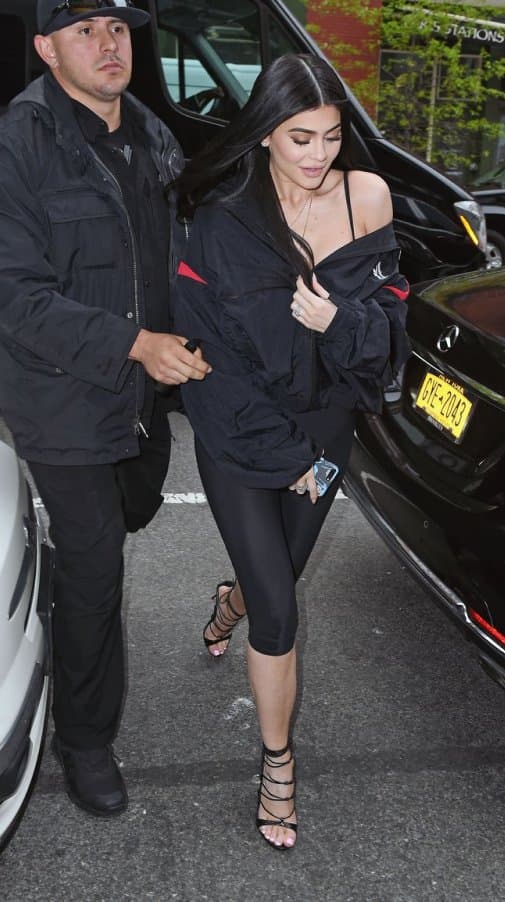 April 25th, 2017
The new couple were spotted at an NBA game sitting at the courtside. Sources said, "they definitely looked like a couple cuddled up next to each other among her friends."
April 16th, 2017
At Coachella, Travis and Kylie were sparking dating rumors. Although according to PEOPLE, they have been friends for a while and nothing is serious between them. Kylies is trying to make her ex Tyga jealous "by hanging out with other guys."
Wrapping Up!
Well, that was a lot to catch up on the whole relationship timeline of Travis Scott Kylie Jenner. So that you are all caught up now, you keep up with them. And keep an eye on our page for more exciting updates.
Read Also: