Ambyr Childers Is Having A "really Difficult Time" Co-parenting With Ex-husband Randall Emmett
Celebrities News●0 min read●
Ambyr Childers shared that she has been having a "really difficult time" co-parenting with Randall Emmett, her ex-husband. In an interview with Daily Mail, she said, "We have different parenting ways and you go through leaps and valleys. Some months are really good and some months are really, really bad."
The "You" star shares two daughters with Emmett, Rylee, who is 9, and London, who is 12. She said that her daughters would always be her first priority.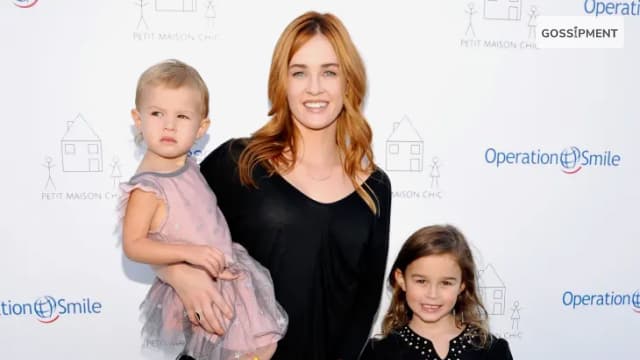 She further mentioned, "I've had a really difficult time co-parenting, but I'm not going to give up. I'm going to continue to work on the relationship and to do what's best because it's for my kids. My kids will always come first, and with that in mind it makes co-parenting a lot easier."
Ambyr Childers and her husband got their divorce finalized in December 2017 after being married for eight years. She informed the outlet, "Sometimes I just explain to my kids that two homes are sometimes better than one, right?"
The mom further added, "That's been the hardest part for me — knowing how to protect my kids but also to teach them how people should treat other people. Teach them that if you just lead with love and kindness and respect, that's all we need. That's all we need in the world. But some people don't get that."
These comments came out months after Page Six confirmed that the temporary restraining order had been dismissed against her ex-husband. A representative for Emmett told Page Six that, "As stated on the record in court this morning by attorney Heather Patrick, Ambyr and Randall have settled their differences, and Ambyr's request for a restraining order has been dismissed."
Childers previously had the sole legal and physical custody of her two daughters after she claimed that the FBI was investigating her ex-husband for Pedophilia.
But what did Randal Emmett say?
Emmett denied all these allegations in January in an interview with Page Six. He mentioned, "I am not being investigated by the FBI nor anyone else, and the notion that I am is beyond absurd."
He also mentioned, "Anyone can say whatever they want in a pleading; that doesn't make it true. There is zero evidence that I'm being investigated for anything, and we still share 50/50 custody of our children. I am shocked and in utter disbelief that Ambyr would even hint at something so disgusting and untrue."
Whereas he is presently involved in a custody battle for his two-year-old daughter, Ocean, with his ex-fiance Lala Kent. They split in October 2021 after he accused him of infidelity. In an interview with Nightline, Kent mentioned the legal proceedings emotionally and said, "If I would have known who he was, who he is … I most certainly wouldn't have brought an innocent little baby into the world [with him]."
Trending on Gossipment:
■ Sophia Bush And Grant Hughes Calls It Quits After Staying Married For 13 Months
■ Barbie Touches $1B Within 2 Weeks of Release: First for a Woman-directed Feature
■ Bianca Censori, Photographed In A Completely Translucent Thong Bodysuit, Passionately Kissing Kyne West