Bear Grylls – The Life Story Of Bear Grylls
Celebrities●0 min read●
Bear Grylls is one of the most celebrated personalities on the face of the Earth. We can bet with our lives that people from all walks of life have either heard of Bear Grylls or have watched Bear Grylls do his thing on Man Vs. Wild. 
Since you are here and you are about to read this article, I am going to presume that you are a die-hard fan of Bear Grylls, and that is why you want his life story and get inspired by it.  
I am a Bear Grylls fan myself, and I have been following him since childhood. The personality that he has compares to that of nobody. Bear Grylls is famous for his performance on Man Vs. Wild and how he survives in the jungle on his own. 
He is one of the best entertainers on TV. He is also famous for his initiatives of taking leaders of various parts of the world to Man Vs. Wild episodes. So without any further adieu, let us take a look at his life story to get some positive motivation that we can use in our lives.    
Bear Grylls' Life Story In Brief
Bear Grylls' full name is Edward Michael Grylls; he was born on 7 June 1974 in London, The United Kingdom. His family was filled with cricketers. His great grandfather was a first-class cricketer. 
He has a younger sister. He is an Anglican; he is also a supporter of the conservative party. Bear Grylls went to the Eaton House for his schooling and later joined the Eton college. He studied many languages in college. From a very early age, he showed a keen interest in climbing mountains and swimming in the river.  
He spent his teen years hiking and traveling all around the world. He climbed Mount Everest. He spent a good amount of time in countries like Nepal and India. 
When he was 18, and after spending a considerable time in India, he wanted to join the Indian Army, but he could not do so because he was a British citizen. He was in love with the Himalayan range. He was heavily influenced by his friend Watty, and that is why he wanted to join the Indian Army.  
But that was not all; if you really want to know the life story of Bear Grylls, then you should definitely take a look at some of the unknown facts about Bear Grylls.  
6 Unknown Facts About Bear Grylls That You Didn't Know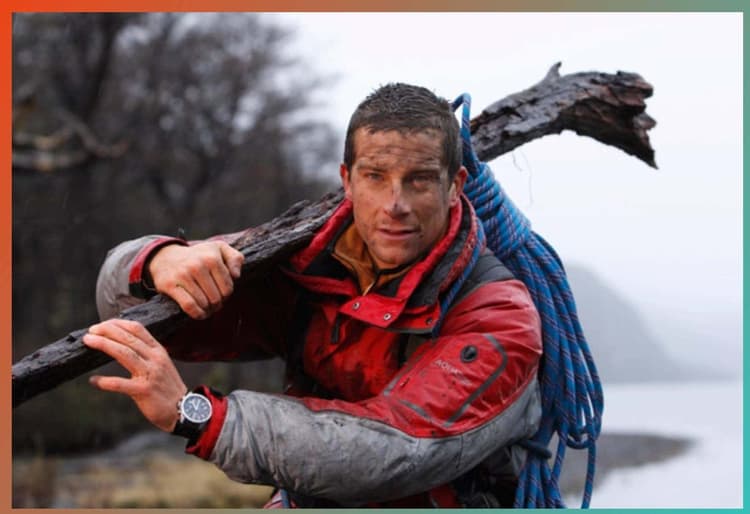 These are some of the unknown facts about Bear Grylls that you should definitely know about. 
Bear Grylls Was Beaten Up In School
I know it is very hard to believe, but it is indeed the truth. He was bullied a lot in school, which I think shaped his strong personality. Since he was bullied from a young age, he decided to take up Karate at very young age. 
He used to get beaten up a lot in school. He took his own time and perfected his Karate Skills, and within a span of three years, he was named the youngest member of Great Britain's Karate Union.   
He Wanted To Join The Indian Army
Many people do not know this, but prior to joining SAS, he wanted to join the Indian Military. He was heavily influenced by the aggressiveness of the Indian Army. 
When he was 18, he had also spent a considerable amount of time in Sikkim and West Bengal. This further motivated him to join the Indian Army. He even tried a lot to join the Indian Army but could not because of citizenship issues. However, he has a great track record at SAS.  
Controversy At The Luxury Hotel
Even though Bear Grylls looks like a man with a clean cheat, he too was involved in his fair share of controversies. Once such an incident is at the Luxury Hotel, a major news outlet claimed that the stunts that he performs on the camera are all pre-recorded and fake. 
The 46-year-old was claimed to be a fraud by the media outlet. Another major claim made by that particular news outlet is that Bear Grylls does not always live in the wild but sometimes lives in luxurious hotels. Bear Grylls, however, later made a public apology on BBC.
Did you know Bear Grylls lives on an island? He is not a big fan of living in posh locations. The 46-year-old man lives on a remote island on the coast of Wales. 
He actually wants to live the lifestyle which he depicts in the show. He has received many criticisms for it but also received praise for standing true to his nature. 
Bear Grylls Is A Phenomenon In China
Would you believe it? Bear Grylls has played a major role in inspiring the Chinese youth. The Chinese Government often bans foreign TV shows and books, but they did not ban the show, Bear Grylls. 
In fact, his book Mud, Sweat, and Tears was the best-selling book in China as it was called the most influential book in China. 
Bear Grylls Wants To Take Trump To The Man Vs. Wild Show
Previously the father of two had taken Barack Obama, the former president of the United States of America, and Prime Minister Narendra of India, to his Man Vs. Wild Show. 
And now he desperately wants to take Donald Trump to his show. However, his plans to take Donald Trump to his show were not successful since Donald Trump is not the president anymore. 
Final Thoughts
There you go, now you know the life story of Bear Grylls and what he did to reach where he is today. I hope you will learn something from his life story, and it will give you some inspiration. 
Bear Grylls is one of the most amazing personalities on Earth, and his inspirational story has inspired millions of people to either try adventurous sports or take some major steps to improve the quality of their lives. 
Read Also –