Bianca Censory Catches Attention With Her Almost Nude Tights And Top In Italy
Celebrities News●0 min read●
Bianca Censori is definitely living the sweet life. Stepping out in a see-through two-piece attire, Censori definitely caught the attention of the people with her nearly-nude look while she was in Italy, enjoying a vacay with Kanye West, her husband, on Sunday.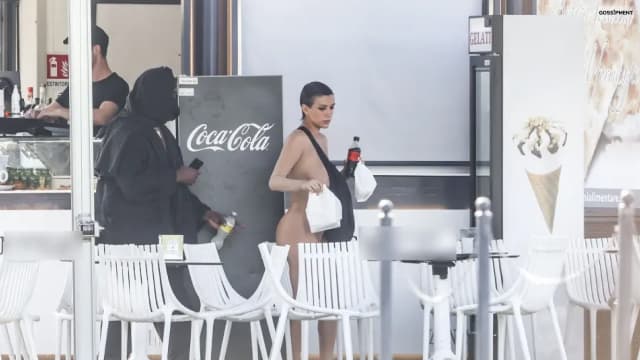 The 46-year-old rapper and his partner, 27-year-old Bianca Censori, married in January in a non-legal ceremony. The couple has been traveling since the beginning of this month, and the eye-catching ensemble of the designer caught a few eyes as she was grabbing some snacks.
The Yeezy designer wore a tan see-through top without a bra which gave her a nude look from afar, and paired that up with beige tights and white pumps.
She also got a smooth wet hair look, adding to the illusion she created with her attire and smokey eye makeup. The Australian designer accessories her look with simple hoop earrings and let her nearly nude look make the statement.
She carried a messenger bag that she hung across the front and covered her breast, and had a bottle of soda with two takeout bags while they ordered their food and enjoyed a few glasses of wine later.
This is not her first time  
Bianca Censory was spotted several times in her signature bare-nude cloths while the couple traveled through Italy during their vacation. She was wearing sheer white tights cut into a top, with a matching pair of headscarves, as she was visiting Florence at the beginning of August.
Their PDA moments were also photographed while they were in Italy. There were also some Instagram pictures, showing the couple making out while Censori wore a sheer bodysuit.
Trending on Gossipment:
■ It's Baby No 2 For Rihanna and A$AP Rocky!!
■ Toto Cutugno is no more! Italian singer passed away at 80
■ American Horror Story' Season 12: Teasers, Plot, Premiere Date and Kim Kardashian's Creepy New Role